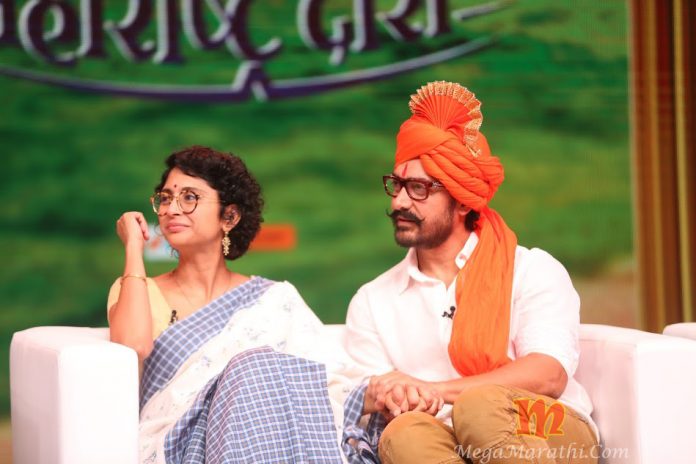 Maharashtra's people have the ability to fight a drought.
Mr. Perfectionist Amir Khan on The Sets of 'Chala Hawa Yeu Dyaa'
'Maharashtra's people face with any problem with courage. Every villager has the strength to fight tough situations that's why even in drought they come together and help each other' such faith was shown by Hindi cinema industry's master perfectionist and superstar Amir Khan on the stage of 'Chala Hawa Yeu Dya'. To fight against the problems which would arise in future due to water shortage Amir Khan with his 'Paani Foundation' set up is visiting small small villages and working on it.
Last year he had organized 'Water Cup Competition' in villages from 3 talukas. Looking at the success rate of this step , this year 'Paani Foundation' will be visiting thousands of villages from 30 talukas to give demonstration. To inform everyone about this plan Amir Khan along with his wife 'Kiran Rao' took part in the programme. With him was the main head Satyajeet Batkal and senior water body reviewer and foundation co-founder Dr. Avinash Pol.
Photo Gallery –
On coming 27th and 28th March on the occasion of Gudi Padwa these two episodes will be telecast on Zee Marathi at 9:30pm.
A perspective actor and one responsible citizen is what Amir Khan is famously known for but apart from this he believes in doing deeds rather than just speaking. Because of he didn't stop at making speeches about Maharashtra's drought conditions instead he has started a plan to work against it. After studying about the water shortage issues and analyzing them he has taken up a very easy doable experiment for which he has selected a few talukas.
Amir Khan and his associates went to such villages and gave them information about this project and it has been taken up in full action. Amir Khan spoke about this plan of his project on Chala Hava Yeu Dya and people listened to him with all ears.
"We teach people how to easily save water, harvest it, and how to utilize it. Many people from last years project will be seen present for demonstrating this experiment." this information was given by Dr. Pol and Satyajeet Batkal. Many people who took part in this project were present to talk about their experiences.
---
Dushkalashi Don Haath
To connect with people and to make them aware about water shortage 'Paani Foundation' is making efforts via the show Dushkalashi Don Haath in which they will demonstrate information about how to save water with Amir Khan will soon be coming to meet audience. Through this show people will be able to know more about ways in which they can save water and they can also take part in water cup competition.
---
Amir Raised Marathi Gudi.
Marathi new year begins with Gudi Padwa. This year Chala Hava Yeu Dya and Amir Khan have come together and on this stage Amir raised a gudi and wished everyone a happy new year.
Overall people who take care of social gathering and who invite people to take part in social events along with entertaining 'Chala Hava Yeu Dya' will be seen together in two episodes on 27th and 28th March at 9:30pm only on Zee Marathi.
---