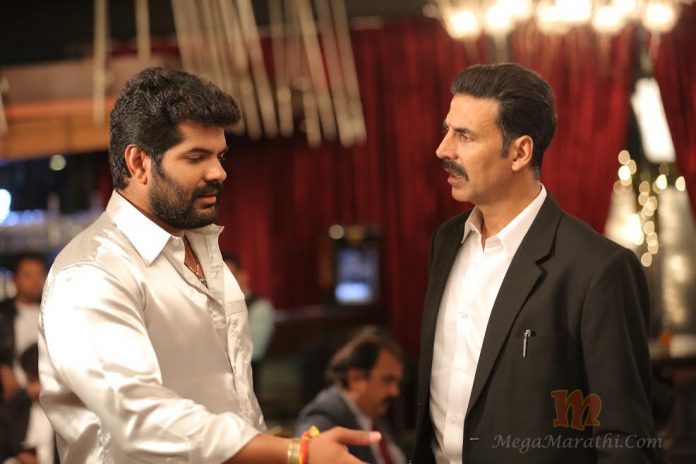 Akshay Kumar to meet Tujhyat Jeev Rangla's Rana soon
When Akshay's Jolly makes Rana's dream come true
The lead actor of one of the many popular TV serials on Zee Marathi, Tujhyat Jeev Rangla, was in for a pleasant surprise when superstar Akshay Kumar came face to face with him recently on the sets of the serial in a five star hotel outside Kolhapur.
The serial has been on a crest on the back of solid support from the audiences. Even Rana's love story with school teacher Anjali is blossoming beautifully in Kolhapur's red soil. Anjali has finally fallen for the simpleton and Rana too has begun to realise his love for Anjali but is unable to express his love to her.
And to help Rana express his love for his lady, Jagdeeshwar aka Jolly LLB is coming to his rescue. Soon, the serial's avid watchers will get to see the handsome hunk promoting his next film Jolly LLB 2 on Tujhyat Jeev Rangla.
Come February 1 and 2, you will get to see Khiladi Kumar promoting his film at 7.30 pm on Zee Marathi.
Anjali's friend Kalpesh has taken Rana and Anjali to a five star hotel and that is where Kolhapur's lovable Rana comes face to face with Bollywood superstar Akshay Kumar.
As Kalpesh mocks the way Rana has dressed and makes him feel small about his financial background, Khiladi Kumar comes to his rescue and asks him to feel confident about himself and his love for Anjali. Rana, who feels low on confidence when Kalpesh mocks his dressing style, Akshay Kumar's words brings back his confidence.
Finally, Rana feels confident enough to let his lady love know about his feelings for her.
Jolly who has come to meet a senior lawyer at the five star witnesses how Rana is treated by Kalpesh and gives him some legal advice to get his confidence back. This scene from Tujhyat Jeev Rangla was recently shot in a five star hotel in Kolhapur, away from the the bucolic surroundings in rural settings and this was the first time the entire crew moved lock, stock and barrel to another setting, offering a much needed respite.
The mood among the film's crew was electrified by Khiladi Kumar's presence on the sets. While the actors were pleasantly surprised and excited too to find Kumar on the sets, they were also overwhelmed by his presence and wanted to give their best shots to impress him.
Akshay Kumar and Hardeek Joshi Jolly LLB 2 Promotion Photo Gallery –
But being a great sport that Akshay is, the tension and nervousness soon melted away as Kumar entertained and earned their respect by his fun-loving and down-to-earth nature. In fact, he had a heart-to-heart talk with not just the film's actors, directors and writers but became friends with everybody on the sets.
While Akshay had promoted his Rustom from the sets of Chala Hawa Yeu Dya, he had a change of heart and decided to promote his film on an ongoing daily soap opera, a first for the Marathi TV industry.
---