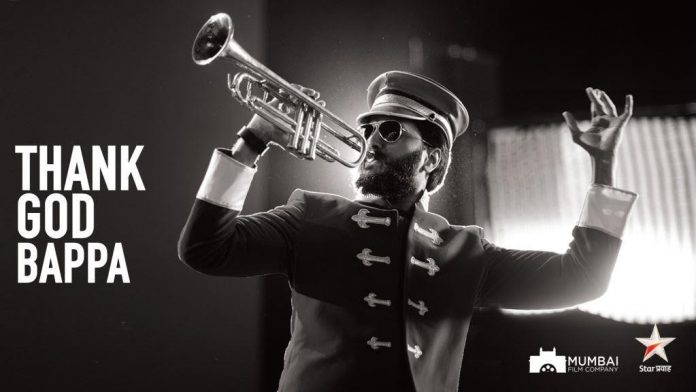 Riteish Deshmukh's 'Thank God Bappa' becomes a huge hit on Social Media
Commenting on changing face of Ganeshotsav, the music video produced by Mumbai Film Company and promoted by Star Pravah, has taken the social media by storm. Released online on 31st August, this song started trending on twitter with #ThankGodBappa, thanks to the tweets by the glitterati like Akshay Kumar, Abhishek Bachchan, VarunDhawan, Karan Johar, HumaQureshi, Ajay Devgn, Kajol, Farah Khan, Sajid Khan, Vishal Dadlani, Shilpa Shetty, Ajinkya Rahane, Siddharth Malhotra, Ankit Tiwari, Suniel Shetty, Sonali Bendre, DiaMirza, Diana Penty, Ram GopalVarma, MandiraBedi, Lara Dutta, Ravi Jadhav, etc. In a week's span, this thought provoking video has crossed 2.2 million views, 1,09,000 likes, 49,000 shares &2,200 comments on Facebook and 5,39,239 views & 11,191 likes on YouTube.
Riteish made his singing debut with this rap style song produced by GeneliaDeshmukh's Mumbai Film Company and broadcast partner Star Pravah. The song has been further popularized by Star Pravah on Facebook, Twitter, Hotstar, YouTube and on-air amplificationon Star Pravah SD & HD and Channel V.
Presented in a unique style, the 'Thank God Bappa' song struck the right chord as it echoes the unspoken sentiments of people. Star Pravah has always supported such initiatives which provokeMaharashtrians to go that extra mile and realize their potential.
Talking about the success of this video, Star Pravahspokesperson said,"Al though the song is in Marathi, we purposely released it with English subtitles so that we can reach out to wider audience who are social media savvy. The black-and-white look and satirical tone of the video blended seamlessly to deliver a socially relevant message for the youth across Maharashtra. We are elated to witness the virality of the music video and we hope that the objective of the video is met."
Ritiesh Deshmukh said, "After Lai Bhari, BalakPalak and Yellow, Mumbai Film Company thought of bringing in a unique concept. When writer-director Kapil Sawant came up with this idea, we at Mumbai Film Company took initiative to produce this music video. We are extremely pleasedto see the overwhelming response received so far. I would like to thank Star Pravah for joining hands in this initiative to make people aware of things that happen around them but they chose to ignore at times."
Ad man Kapil Sawant has penned down the lyrics of this song and also directed the music video. The music is by Amar Magrulkar, DOP – Manoj Lobo, Editor – Adele Pereira, Line Producer – VinayChaukar (Sukarma Films) Sound Engineer – Abhay Rumde, Costume Designer – Puneet Jain, Amrita Sarkar, Art Director – Mandar Nagaonkar, Choreographer – Imran Malgunkar, Makeup – Nitin Indulkar, Online Editor – Mohammed NadeemAkthar, VFX – Illusion Ethereal Studio and English subtitles by ShivkumarParthasarathy.
---