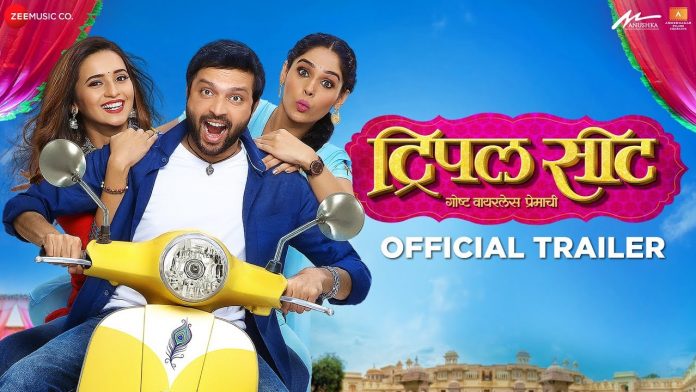 The film 'Triple Seat' touted as Gosht Wireless Premachi taglined has been well received right from its first look recently held its grand trailer launch in a different attractive manner. Present on the occasion were producer Narendra Shantikumar Firodia , co-producer Swapnil Munot, associate producer Pushkar Shripad Tamboli, and the story , screenplay and dialogues and creative direction are by associate producer Advocate Abhijeet Dalvi, and director Sanket Pavshe with the entire cast and crew and technicians.
Produced under the banner of Anushka Motion Pictures and Entertainment , Ahmednagar Films Company , the trailer shows Ankush Chowdhary who plays Krishna peeping into a room with his three friends when he gets a miscall from Shivani Surve who plays Meera and who she is not exactly known to Ankush but he befriends her and then Pallavi Patil who plays Vrinda makes an entry and Krishna and Pallavi take vows never to leave each other and Pravin Vitthal Tarde plays an inspector Deewane and what role he plays in the lives of Ankush and Pallavi and whether he adds to their predicament or solves it is a matter of great curiosity. And at the end of the trailer is shown Ankush giving a ring to an undisclosed hand and whose hand it is; is a great mystery. And to know that we will have to wait till Diwali when the film releases.
Based on a true story the film stars Ankush Choudhary, Shivani Surve, Pallavi Patil, Pravin Vitthal Tarde, Shilpa Thackeray, Rakesh Bedi, Vidyadhar Joshi, Vaibhav Mangle, Yogesh Shirsat, Swapnil Munot, Prakash Dhotre, Abhijeet Jhunjarrao, Prasad Bedekar,, Poonam Patil, Shobha Dandge, Rahul Nevale,ETC. The film has music by Avinash Vishwajeet, and lyrics by Guru Thakur, Mandar Cholkar, Avinash Shende, Vishwajeet Joshi, The songs sung by Rohit Raut and Harman Kaur 'Nate He Konte', 'Roj Vate by Bela Shende is getting a good response and so is a song sung by Swapnil Bandodkar which will release soon. If all problems can be solved with a miscall then all the friends should give a miscall to their friends. That is the message given by this film 'Triple Seat' which releases on 25 October.
---