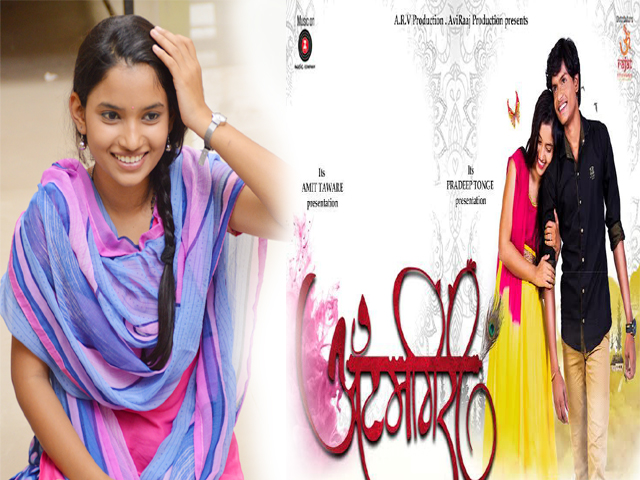 Exclusive Talk With Itemgiri Actress Rajeshwari Kharat
You all might remember  Fandry cinema? Then you might also remember Jabya's lover Shalu. Now Shalu has grown old, that is Rajeshwari Kharat. She'll be coming to meet you as cinema's heroine. Itemgiri, her new cinema will be coming to meet you on the 9th of June. In this movie actor Hansraj Jagtap has been casted as her hero. Let's see what does she have to say about the cinema?
---
How did you get Itemgiri cinema?
Actually after Fandry's release I started getting many movie offers. But I didn't find any movie's story appropriate for me. But when I heard Itemgiri cinema's story, I felt that it's a story of a girl of my age and hence I accepted the movie.
---
What is your role in Itemgiri cinema?
In Itemgiri cinema I'm playing the role of a college going girl named Shrushti. This cinema is a depiction of events which take place everyday in lives of college going girls. Shrushti is a girl who is residing in a remote village and she moves to the city for a while and then she moves back to the village. The movie is based on what happens after she moves back to the village.
---
How was the experience of working as a heroine??
Oh my god. We have seen since childhood has hero heroine keep dancing on peppy songs and all. I never thought be able to do that in such a short period of time.. not even in my dreams. I remember it was my first day of shooting. When I came on the set there was a lot of crowd on the set. I thought that everytime a shooting takes place in a village such crowd gathers. But then I was told to not get out of the set as everyone was there to see me. After hearing that I was a bit scared, but then I felt happy too to see the love audience have for me. Even now I can remember that moment.
---
What will you say about Itemgiri?
I'll say only one thing about this cinema and that is even if this cinema is for youngsters the adults too will enjoy it equally. What are youngesters views about love is shown in this movie. This movie comments on what love means to them. Along with me and Hansraj, Milind Shinde, Chaya Kadam too are casted in a lead role.
---