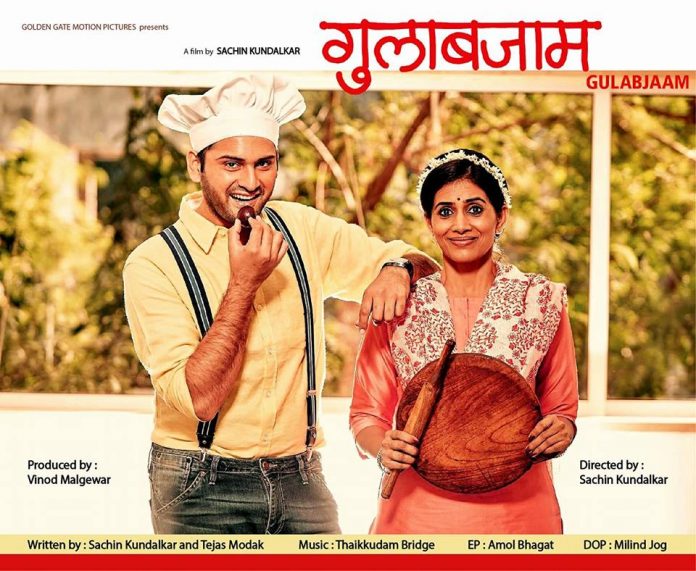 A few days ago a hindi movie named 'Gulab Jamun' was announced by director Anurag Kashyap. Extraordinarily in this movie Abhishek Bachchan and Aishwarya Rai Bachchan are in lead roles and it's a romantic-comedy cinema claims Anurag Kashyap. Following that now there's a new upcoming Marathi movie named 'Gulabjaam' whose making has begun. 'Gulab jam' the Marathi cinema was announced on the occasion of Gudi Padwa.
Recently actor Siddharth Chandrakar posted a poster of the movie with a caption saying "Our Recipe Has Begun". Mainly in the cinema actor Siddharth Chandekar and Sonali Kulkarni will be casted as a couple. That's why we can see first time their pair is being castes for a romantic part.
The movie has been directed by director Sachin Kundalkar and it's making begun on the occasion of Gudipadwa. Nowadays in Marathi cinema many experiments are going on. Following that trend now you can hear Thatkudam Bridge music band's music in the cinema.
In 'Vazandar' movie Sachin Kundalkar had taken actress Sai Tamhankar and Priya Bapat and experimented with them. The audience appreciated 'Vazandar' movie even in the trouble of demonetization. Same way with his upcoming film 'Gulabjaam' Sachin will raise the bar of entertainment is for seen.
---