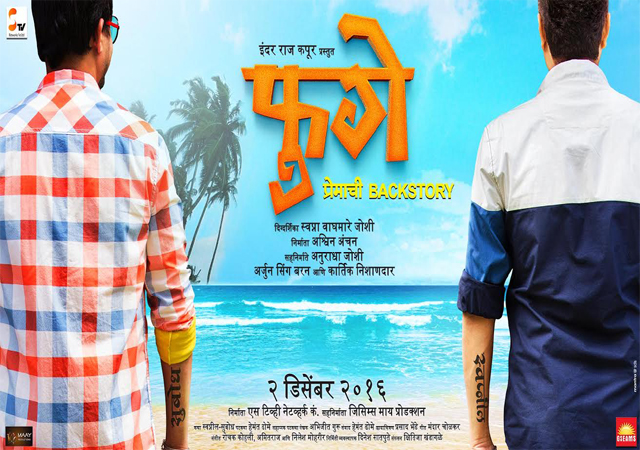 Fugay Marathi Movie Motion Poster And Title Track Teaser Release
M Town World is always in a intention that to give something new to the audience. Also titles of the Marathi Movies are different. Blockbuster movie 'Mitwa' fame Director 'Swapna Waghmare' is back with her upcoming movie 'Fugay'. Recently a Motion Poster and Title Song Teaser is launched digitally on the occasion of Swwapnil Joshi's birthday at Lightbox, Santacruz, Mumbai in presence of Starcast of the movie.
Swwapnil Joshi and Subodh Bhave has done a anchoring for this event. The first glimpse of the poster itself will give you an excitement which reads actors  interchanged surname Swwapnil Bhave and Subodh Joshi on beach and several colourful balloons giving a hint of fun, friendship and love. Adding further to the curiosity, Swwapnil and Subodh themselves have changed their surnames Swwapnil Bhave and Subodh Joshi on their respective social sites and twitter handles and created tattoo on their hands.
Inder Raj Kapoor Presents, 'Fugay' going to release on 02 December 2016, produced by Arjun Singgh Baran, Kartik Nishandar and Anuradha Joshi under the banners STV Networks, GSEAMS and MAAY Productions. Lyricists Mandar Cholkar written Title song of Fugay – 'He Fugay' is sung in the voice of famous Singer Adarsh Shinde and Siddharth Mahadevan. Umesh Jadhav has choreographed this song. Its a great chance to see famous actors like Swaapnil Joshi and Subodh Bhave together in Fugay. The movie is relasing on 02 December All Over Maharashtra.
हि न्यूज मराठी मध्ये वाचण्यासाठी येथे क्लीक करा ….
---