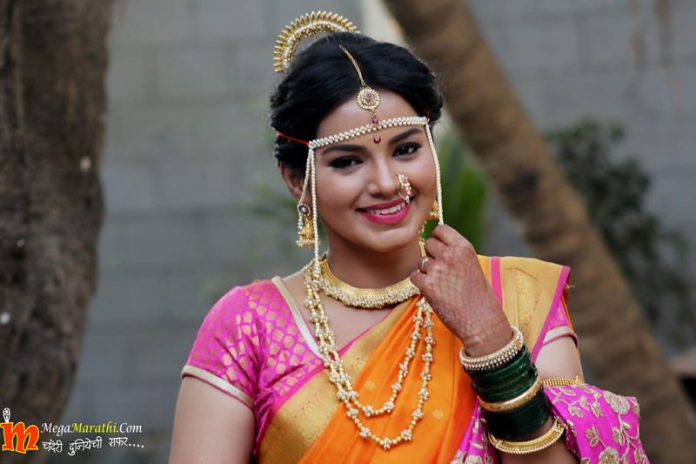 Zee Yuva a synonym to fresh and energetic content is delivering outstanding shows for over two years now. Bringing distinctive and relatable content to the table in form of various shows based on the viewers interest is what makes Zee Yuva stand out from its competition. The channel recently launched a very divergent show named 'Tu Ashi Javali Raha'. As the name suggests, it is a unique and special love story based on the extreme love and possessiveness of one partner towards the another. The lead's Rajveer and Manva are seen to be completely opposite but have somehow fallen in love with each other. The show will now witness the grand function as they tie the knot.
It was a huge affair for both the families as they have finally come together in unison to celebrate the biggest day of Manva and Rajveer's life. From the traditional Mehendi to Halad to the maharashtrain style wedding, every function was celebrated with great zeal and enthusiasm. Manva was dressed in a an authentic yellow and pink Nawari for her wedding and completed her outfit with golden pearl jewelry, a Maharashtrian nath and a traditional mundavlya on the forehead.
The most shocking yet overwhelming incident that happened on set was when Manva was getting married the entire family shed a tear as they got really emotional about the reel couple finally getting married. Teetiksha also revealed a behind the scene secret as she mentioned that the entire team of Tu Ashi Javli Raha has a common whatsapp group and the groom and bride side would compete on which set is having more fun than the other, making the atmosphere feel like a real wedding.
Talking about what was the best part of the ceremony, Teetiksha revealed, "One part that I absolutely loved about the shoot is when Manva's father was called to do the rituals of the traditional 'Kanyadaan', he refused. Manva's father said that he will not giver her away and that her daughter is her responsibility and that will not change even if she is married off to Rajveer. This has never happened on any show before and hence it was a very touching moment for me and Manva's character as well. I feel more families and parents need to see this and learn from the show". What a sweet and uncommon gesture by Manva's father.
You're invited to celebrate Manva and Rajveer's wedding on 'Tu Ashi Javali Rah' on the 9th of December at 7 PM only on Zee Yuva.
---