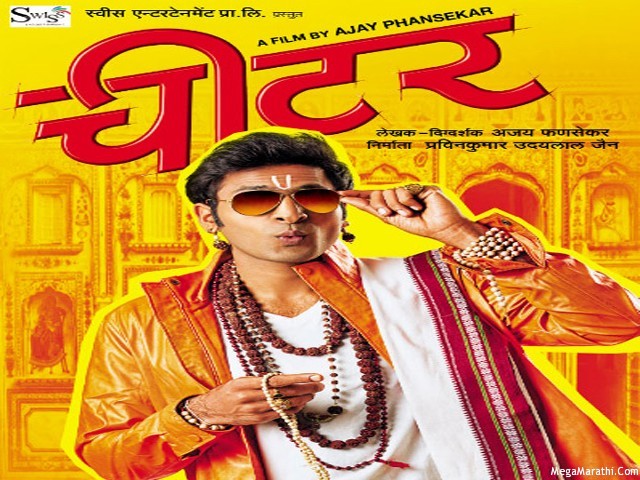 Cheater (2016) | Marathi Movie – चीटर
 StarCast : Vaibbhav Tatwawdi, Pooja Sawant, Hrishikesh Joshi, Suhas Joshi, Vrushali Chavan, Jeevan Kalarkar.
Producer : Pravinkumar Udaylal Jain.
Director : Ajay Phansekar
Executive Producer : Sameer Sheikh.
Music : Abhijeet Narvekar.
Studio : Swiss Entertainment Pvt. Ltd.
Lyrics : Akhil Joshi.
DOP :  B Laxman
VFX Effects : Hemant Shinde.
Editor : Vinod Pathak.
Art Direction : Swapnil Keni.
Choreography : Vrushali Chavan , Amit Baing.
Singers : Avdhoot Gupte, Sonu Nigam, Anandi Joshi.
Genre  : Comedy, Romance
Release Date : 13 May 2016.
---
Synopsis :
Abhay, a scion of a cultured well to do Agnihotri family does cheating and is in contrast with all the other principles of his family and his acts are totally against the rules  of his family . There is also the rich family of Bob Satam living in Mauritius   and he is a big industrialist who is living with his family members and he has bought a  grand villa in Mauritius a long time back. His mother is of the opinion that her grand daughter Mrudula should know Marathi culture and  the lifestyle of a Maharashtrian family  and so she is sent to Pune for studies and she meets Abhay and falls in love with him but Abhay is cheating her too and then there occur such events that Mrudula is forced to head back to Mauritius and does Abhay  fall in his own making of a trap due to his habit of cheating ? To find this, one has to see 'Cheater' the film.
---
Poster :
---