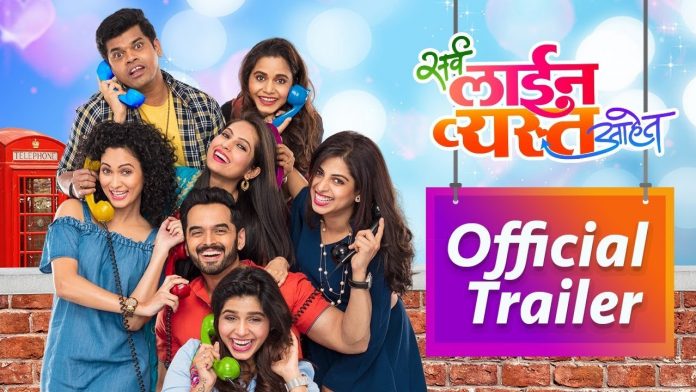 Sameer is a young simple and level headed boy but the prediction made by his Gadbade baba  that he will  have a love marriage makes his life difficult and full of romantic escapades.  One beautiful than the other girls who are impish, teasing and loving and glamorous and his best friend 'Babya's' love tips make the film 'Sarv Line Vyast Aahet' very entertaining with comic and entertaining episodes. Presented by Amol Uttekar, and Stellaria Studios and directed by Pradip Raghunath Mestri 'Sarv Line Vyast Aahet' films trailer was launched recently on the social media.
It is evident from the trailer that the film is about love, friendship, romance , flirting, marriage which makes the film a roller coaster ride . In the film the characters of Babya is played by Siddharth Jadhav and the character of Samir is played by Saurabh Gokhale. And the plethora of girls who come in Samir's life essayed by Sanskruti Balgude, Smita Shevale, Hemangi Kavi, Neetha Shetti Salvi and Rani Aggarwal.
The trailer is not only impressive and interesting but the dialogues of Gadbade Baba played by the senior actor veteran Mahesh Manjrekar is very humorous and comic and entertaining and his character will no doubt click with the audiences. The other cast comprises of Kamlakar Satpute, Madhavi Soman, Priyanka Mungekar, Sandhya Kunte, Satish Agashe, Shivaji Redkar, Hitesh Sampat,, and Gaurav More have also made the film 'Sarv Line Clear' interesting. If you have not loved anyone in your life, your life is a waste is a message suggested by this film.
---