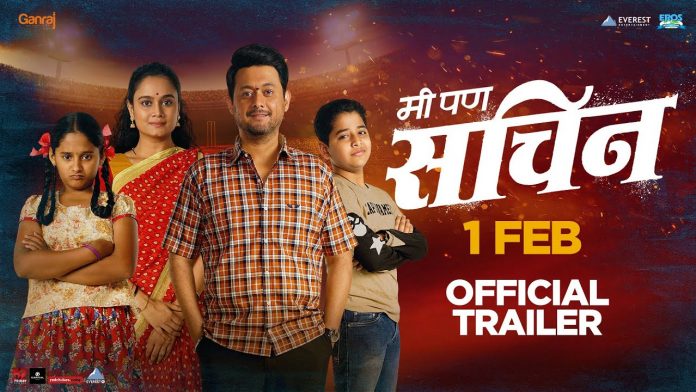 'Don't Stop Chasing Your dreams' is the tag line which accompanies the grand trailer launch of Swwapnil Joshi's forthcoming film 'Me Pan Sachin' on social networks. In India there is a great deal of importance attached to the popular game of cricket. There is an undying love relationship between cricket and its fans. And such a relationship is handled in the film 'Me Pan Sachin'. From the tagline of the film 'Me Pan Sachin' it is evident that there is a good and positive message in the film. Don't stop chasing your much cherished dreams until they are fulfilled is the message conveyed through the film. One average young man , with his confidence and his hard work fulfills his dream inadvertently without him knowing it and this improbable story is titled 'Me Pan Sachin'.
Trailer –
One young man living in a village dreams of playing at the Mecca of Cricket, the famed Lords Cricket Ground in London  and his journey in achieving his most difficult dream and the hardships he faces in achieving his improbable dream is the main gist of the film .The trailer shows Swapnil Joshi in his young age and later as a middle aged man in two different personalities. The film will see many big and veteran actors in the fray in important roles.
Swwapnil Joshi, Abhijeet Khandkekar,, Priyadarshan Jadhav. Anuja Sathe-Gokhale, Kalyani Mulye, Avinash Narkar and Suhita Thatte play important roles in the film. The film produced by Eros International. Sanjay Chhabria of Everest International and Ganraj Associates will release on 1st February. Neeta Jadhav, Ganesh Gite, Sanjay Chhabria, and Nikhil Fuutane are the producers of the film. Shreyas Jadhav has written and directed the film. Now that Shreyas Jadhav is associated with the film, we will definitely get to see something new and interesting as evident from his previous films and songs. But we will have to wait for some time to see the release of the film. This is Shreyas Jadhav's debut film. And his new innings will definitely be watchable as evident from the trailer of the film. Eros International will release 'Me Pan Sachin' overseas.
---