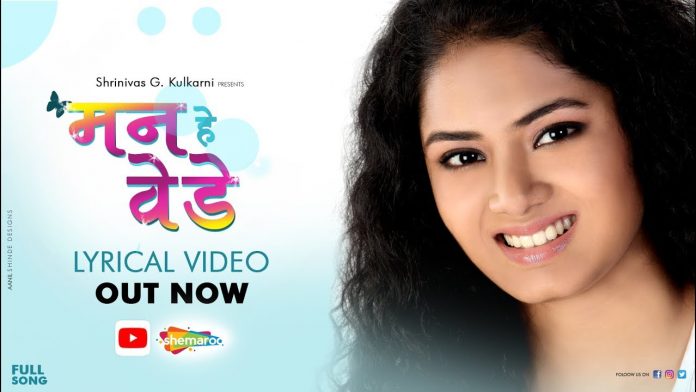 Mann He Vede Ka Punha, Sang Na.. Tujhyatach Disate Ka Punha, Sang Na.. The Song 'Mann He Vede' depicts the deepest emotions of a human soul in a very melodious way. The music sooths the ears and the lyrics enlightens the soul. The romantic song was released few months back on social media and YouTube. The melodious song is penned by poetess Vaishali Marathe, music composed by Jeevan Marathe and sung by popular singer Anwesshaa.

Music arrangement of the song is by Varun Bidye and technical aspects are handled by Aanil Shindey. The single Music album is produced by Shrinivas Kulkarni.
Anwesshaa became popular at a very young age through the music reality show 'Chhote Ustad'. Though she is Bengali, she had sung songs in many regional languages. Her most popular Marathi songs are from Marathi film Baban, which were appreciated by audience. Mann He Vede too is a soft musical number which is getting popular among the music lovers.
A lot of hard work was put in to create this melodious romantic song. Producer Shrinivas G. Kulkarni, who was raised in a middle-class family, always had production as his childhood dream. He felt really happy to create such a classic piece of work with his associates though he belongs to a drought affected Latur district in Maharashtra.
A Flute version and a Music Video of the Song 'Mann He Vede' will be released soon.
---