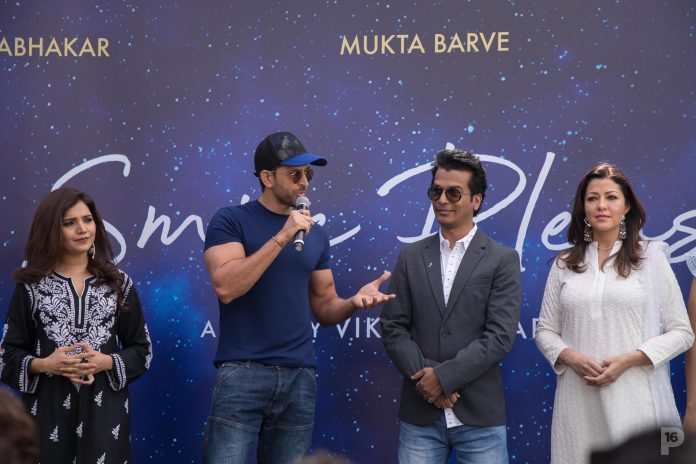 Subodh Bhave and Mukta Barve starred in Vikram Phadnis's first film 'Hrudayantar' and it did wonderfully well and now he is coming with his next film 'Smile Please' for which Hrithik Roshan gave the mahurat clap. Present on the occasion were actors Lalit Prabhakar, Mukta Barve, Prasad Oak, Aditi Govitrikar, Trupti Khamkar gave the brief of their respective roles to those present and present also on the occasion were celebs like Zarine Khan, Ronit Roy, Kiara Adwani,  Shweta  Bachchan Nanda, etc. and others from Hindi and Marathi film industry.who gave their best wishes to Vikram and his team of 'Smile Please'.
Hrithik Roshan said on the occasion that he knew Vikram was a very good director and immerses himself in his work over the film and since he knows the story of the film very well he is able to execute the shoot of his film very well . He elaborated that he had also done a small role in Vikram's first film 'Hrudayantar' and that's why I know how he gets into the film-making with vigor and how sensitivity and commercialism are packaged so well in his films. He also said that he was sure that 'Smile Please' will bring a smile to the lips of the audiences.
Vikram speaking about his film said that it was indeed a very special film to him and somehow he feels the presence of his mother in the script of the film and that's why it is very close to him. When I started out to make this film, all those close to him helped him out a great deal and they are still helping me out. And that on this occasion he would like to thank all those close who have helped him out.  And that with 'Smile Please'the audience should be in a better frame of mind after watching the film. With the  film Smile Please' its title should bring out a positive outlook towards life and that life should be enjoyed fully. After a brilliant film like 'Hridayanatar' Vikram are coming with a film with a fresh new subject and an emotional sensitive subject to move the audiences . And also Vikram and Mukta Barve are coming together and that's why the audiences will get something to be treasured and varied in this film. Hashtag Film Studios Nisha Shah and Sanika Gandhi of Krtyavat Productions are the producers of the film. The music  for the film is composed by Rohan- Rohan with lyrics by Mandar Cholkar and the DOP for the film is Milind Jog.
---