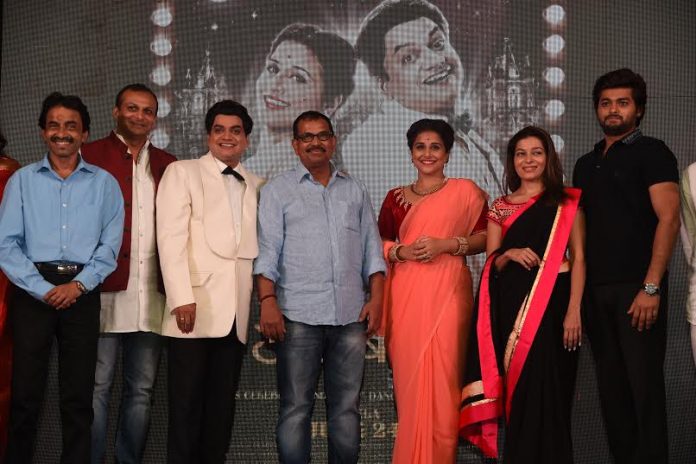 Vidya Balan launches Ekk Albela's song 'Shola Jo Bhadke'!
After launching the fascinating trailer of the Marathi movie, Ekk Albela recently, the makers of the Bhagwan Dada biopic including producers Manglmurti Films, Kimaya Motion Pictures, Dr Monish Babre and director Shekhar Sartandel launched the movie's iconic song 'Shola Jo Bhadke' at a plush five-star hotel in Mumbai.
Ekk Albela is the untold story of India's first dancing and action hero Bhagwan Dada and his extraordinary journey as he went out to become one of the biggest legends of Hindi cinema.
Produced by Kimaya Motion Pictures and directed by Shekhar Sartandel, Manglmurti Films' Ekk Albela features award winning versatile actor Mangesh Desai as Bhagwan Dada and the powerhouse performer Vidya Balan portraying the role of renowned yesteryear actress Geeta Bali in her debut Marathi movie.
The popular song 'Shola Jo Bhadke' featured in the Bhagwan Dada-Geeta Bali starrer Albela (1951) has been recreated in Ekk Albela which was launched amidst a packed house by Vidya Balan, Mangesh Desai, director Shekhar Sartandel, producers Sangeeta Ahir, Krrish Ahir and producer Dr Monish Babre.
Interestingly, Vidya not only surprised the gathered media in Geeta Bali's look but also performed on the iconic song along with her co-star Mangesh Desai.
The biopic that explores the era between 1930 to 1951 has several dialogues in Hindi and two Hindi songs from the original film Albela including Shola Jo Bhadke and Bholi Surat Dil Ke Khote.
Ekk Albela is directed by Shekhar Sartandel and produced by Monish Babre, It is a Kimaya Motion Pictures Production and presented by Manglmurti Films and releases on 24th June, 2016
---