Paij Marathi Movie Muhurat
Tamasha based Marathi movies has attracted audiences on Silver screen since long time. Although the time changed a lot it has a great madness about Lavanis and tamasha fans. There is great treat for lavani lovers because recently a muhurat of  Lavani based movie 'Paij' has been held in presence of All India Marathi Movie Chairman 'Megharaj RajeBhosale' and its actors. During this event various dance performances has done on the songs from movie.
'Kakaji Arts and Films' has already produced various music albums but this is for first time to produce a movie. Pandharinath Bhalerao, Santukrao Kolate and Vinod Vaishnaw has produced movie and directed by Prakash Bhalekar. Its a thrilling journey of comman women to become Lavani emperor, is a backbone of the movie.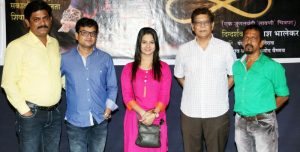 The movie is having great starcasts like Mohan Joshi, Mangesh Desai, Sonali Kulkarni, Sara Shravan, Ramesh Vani, Prabahakar More etc. Story by Sanjay Kolte and screenplay, dialogues and music by Pandharinath Bhalerao and Vinod Vaishnaw. Camera is handled by Jitendra Acharekar and choreography is done by Kiran Kakade.
हि बातमी मराठी मध्ये वाचण्यासाठी येथे क्लिक करा
---