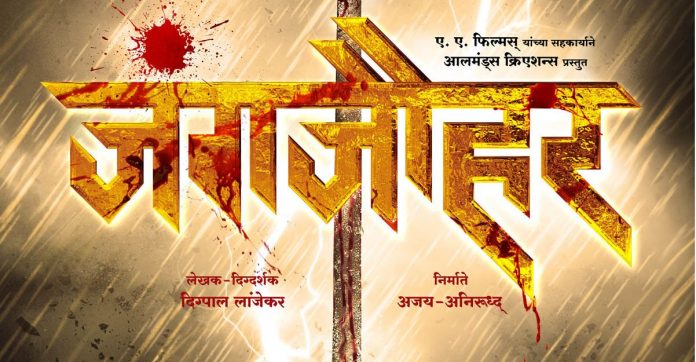 As we know, every page in the history of the Maratha's rulership is adorned with the might of many brave warriors. But this knowledge of historic significance should not only remain limited to our books, it should be passed onto the next generation!
After successfully delivering the importance of such historical events through the films 'Farzand' and 'Fatteshikast', writer & director Digpal Lanjekar will reveal another unique story through the Marathi film 'Jungjauhar' on screen in June 2020.
'Jungjauhar' will showcase Bajiprabhu Deshpande's immortal sacrifice saga on silver screen!Bajiprabhu Deshpande is a symbol of generosity and exceptional courage! When Siddi Jauhar had besieged Panhalgad, Chhatrapati Shivaji Maharaj rescued himself with great chivalry and marched towards Vishalgad.
On realizing the danger of the Bijapuri army in the chase, Baji asked the Maharaja to proceed. Baji and Fulaji, along with the Bandal army stood an epic fight against the Siddhi army in Ghodkhindi. While fighting thousands of troops, Baji and 300 Bandal Army heroes fought valiantly till the Maharaja reached Vishalgad fort. This chapter of the unforgettable victory will soon be seen on the silver screen in 'Jungjauhar'.
While rescuing Chhatrapati Shivaji Maharaj, Bandal Sena and Baji Prabhu became the chariots of the battlefield of Panhalagad; and the battle of Ghodkindi was sanctified by the sacred blood of Baji Prabhu's loyalty.
The film will be made with extensive research of many historical origins and historical texts. Official documents have also been issued by the descendants of different ancestorial families for this film. Since the first glimpse of 'Jungjauhar' was seen in the beginning of the film 'Fatteshikast', the audience was quite excited about the film. Now Ajay-Anirudh Aarekar of Almonds Creations has officially announced the production of the film 'Jungjauhar'.
The cast of the film hasn't been disclosed yet but according to sources Chinmay Mandlekar will be playing the role of Chhatrapati Shivaji Maharaj.
This exclusive story of Baji Prabhu Deshpande and the extraordinary heroism of the Bandal Sena from 'Jungjauhar' will be a refreshing one!
Stay tuned for more updates on the film!
---