Amruta From 'Ghadge and Sunn' Celebrates Her First Makarsankrant !
From the beginning, audiences has showered lots of love on the serial – "Ghadge and Sunn"  telecast on Colors Marathi. The chemistry of Akshay-Amruta has touch the hearts of viewers. Viewers on other hands, has witness their friendship, fights, sweet-sour memories, staring from their marriage to this date.
Amruta has firmly faced all the challenges which came in front of her. Recently she has won the trust of all the family members, by getting back Maai's stolen Tode (Maharashtrian ornament), with the help of Akshay. Has Amruta really won Maai's trust? What will Maai say on this incidence? Viewers will get all the answers in coming episodes of Ghadge and Sunn.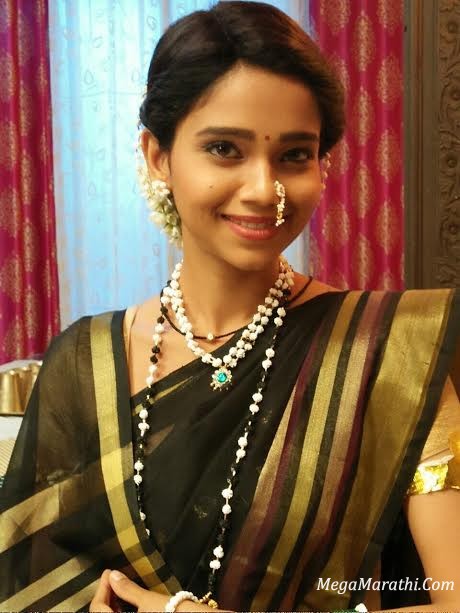 Each and every festivals are celebrated in a traditional, but on a grand scale in Ghadge Sadan. This Makar Sankranti is Akshay's first sankranti after his marriage. No doubt, Maai has made all the arrangements for her grandson, and this sankranti there will be special celebrations in Ghadge Sadan.
Maai has made all arrangement for this celebrations – a black saree for Amruta with gold ornaments and not to forget – Tilacha Ladoo. So don't forget to watch your favorite Akshay-Amruta's first Makar Sankranti in "Ghadge and Sunn" at 8:30PM only on Colors Marathi.
On the other hands, Akshay's mother (Mrudula Ghadge) has come to know that Akshay and Kiyara are secretly meeting each other. Both still love each other. After knowing this Mrudula meets Kiyara and warns her to end her relation with Akshay.
Will Kiyara listen to Mrudula? Will Akshay-Amruta's celebration will end on a happy mode? Or is there any twist coming into Akshay-Amruta's life? What exactly going through Kiyara's mind? Get all your questions answered, watch Makar Sankranti's special episode of 'Ghadge & Suun' at 8:30 pm only on Colors Marathi
---
Cloud Tags – ghadge and sunn serial starcast , bhagyashree limaye, amruta in ghadge and sunn real name address, ghadge and sun marathi seriala title songs , full serial ghadge and sunn
---