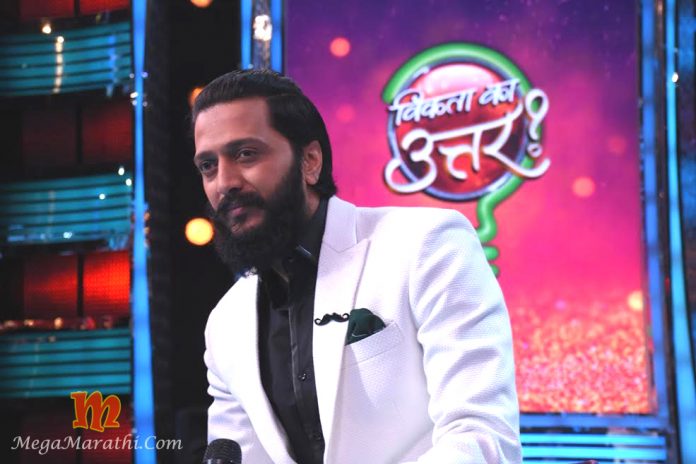 What Riteish Deshmukh's Father Told Him
'You create your own identity, I will look after mine' an emotionally charged Riteish Deshmukh said about his late father, and two-times Maharashtra's Chief Minister 'Vilasrao Deshmukh'. The Bollywood star remembered his father while speaking in response to a question posed to him by a participant in Star Pravah's 'Vikta Ka Uttar' programme.
A visibly moved Riteish was compering the show for Star Pravah when a participant asked him about his father's memories.
"I have been amid politicians and politics since I was a child. My father would always be busy in attending or organizing political events. Our house would always be full of political leaders," Riteish said recounting his childhood days.
"I never ever dreamt that one day I would work in Bollywood. I am an architect by profession. But one day I got a call from 'Ramoji Telefilms asking me if I was interested in acting in 'Tujhe Meri Kasam'. I asked them for ten days," Riteish, who gave the hit Marathi film 'Mauli' said.
"I was aware that my father was Maharashtra's Chief Minister at that time and I was aware of his image. I was scared to ask for his permission to act in films. And since he was very busy with his work I could not manage to meet him too to discuss this offer. But one day I finally asked if I could work in a Hindi film," Riteish said reminiscing those days.
"He encouraged me to go ahead but told me that it would be entirely your decision."
Since he was the son of a state's chief minister Riteish always knew that people would make fun of him if his films didn't click at the box office and mock him by saying that 'the Chief Minister's son has no acting skills. He can't act and so the film failed.'
Riteish feared that this could have an impact on his father's image as he was not only Maharashtra's chief minister but a self-made political leader in the state.
When he discussed his fears with his father, the late Vilasrao advised his son to create his own identity and not worry about his father's image. "Don't worry. Everything will be alright. You create your own identity, do not bother about my image," the sagacious father told his beloved son. Even to this day Riteish said, he has been following his father's advice and believes that his father's words has held him in good stead.
You can watch Riteish speak from his heart about his father during the forthcoming show of 'Vikta Ka Uttar' this Sunday (18/12/2016). Not that the people of Maharashtra have forgotten the successful legacy of Vilasrao Deshmukh. Not just his own family but Vilasrao Deshmukh is loved by everybody in Maharashtra.
हि बातमी मराठी मध्ये वाचण्यासाठी येथे क्लिक करा ….
---
---