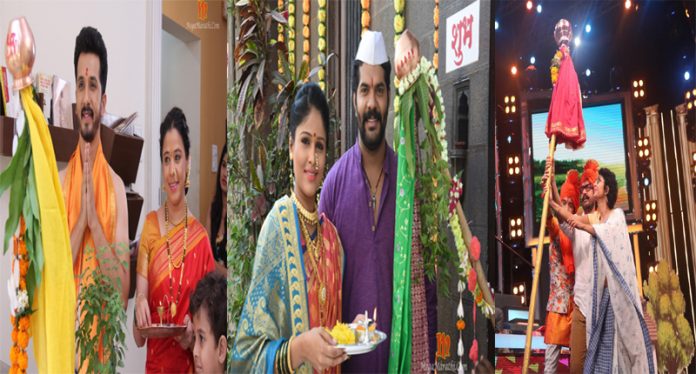 Marathi New Year , gudipadwa celebration will be seen on Zee Marathi's serials. In 'Tujhyat Jeev Rangala' , 'Majhya Navryachi Bayko' and 'Chala Hava Yeu Dya' gudi will be raised and the serial will get a new twist. These episodes will be featured on gudipadwa.
---
Rana-Anjali will Return Home.
Ranada and Anjali from the famous serial 'Tujhyat Jeev Rangala' on Zee Marathi  have won the hearts of many. They got hitched recently and Rana has made a decision to start with their new life in a house at the farm. Behind this decision was his sister in law's trick and Rana fell for it. Efforts are being made by Abba and Godakka to pursue Rana to return to their house. Their this effort is going to get positive results and he is going to return home with the new bride.
About this new twist Rana says this is their first Gudi Padwa after marriage. Our marriage begun on a different note. Leaving our present house I took Anjali to a house on the farm and she accompanied me there too. Everyone wishes we should return home, soo we are on the occasion of gudipadwa. For me Abba's and Godakka's happiness matter a lot. It's was Anjali's wish too that we should have the whole family together and to fulfill their wishes is my duty. In all this no one should get hurt is also my responsibility and I am going to try to do justice to it. When asked about the moving into the house , Anjali says, staying in a family after marriage is a dream of every girl. And now on the occasion of gudipadwa my dream is going to come true. I've to take care of everyone in the house and I've to love everybody. Since I'm the youngest daughter in law everyone has high expectations from me which I'll try to fulfill.
---
Majhya Navryachi Bayko –
'Majhya Navryachi Bayko' this serial has reached an interesting twist. To defeat Shanaya and to win back Gurunath , Radhika is making efforts and she's reaping the fruits now. Any festival or good occasion should be celebrated with family is Radhika's nature. Eventhough Shanaya has taken over Radhika's house , Radhika has decided to celebrate gudipadwa I'm her own house as they do every year. On gudipadwa Radhika dresses up well and Gurunath accompanyies her. Shanaya opposes it as usual but Radhika continues ignoring her and raises a gudi with Guru.
---
On Chala Hava Yeu Dya Amir will Raise a Marathi gudi.
To make Maharashtra drought free through Pani foundation Amir Khan  has taken a step ahead. To give information about this and to reach as many people as possible , along with his team Amir came to the sets of chala hava yeu dya. On the sets of Chala hava yeu dya Amir khan along with his wife Kiran Rao raised a gudi. On coming on 27th and 28th March at 9:30pm audience will be able to catch the latest episodes of Chala Hava Yeu Dya only on Zee Marathi.
---