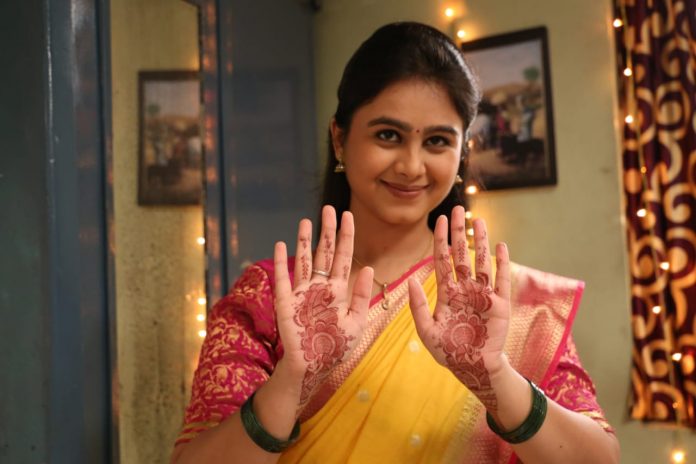 In the show 'Sukhachya Sarini He Man Baware' things have taken a tumultuous turn with the accident of Siddharth and Durga directly reached Anu's house to save the life of Siddharth. Anu agrees to meet Siddharth and things take a turn for the better. Anu has agreed to marry Siddharth. Siddharth is recuperating slowly.
Soon we can see the marriage of Anu and Siddharth on the show. And things are now being arranged for their marriage. The mehendi of Siddharth's name can be seen on Anu's hands. For a long time the viewers have waited ardently to see this marriage and the journey for this match has begin and even you can be a part of it.
Click on image to enlarge it.
In this mehendi ceremony Anu looks beautiful in the pictures of the ceremony. Siddharth and Anu are very much in love which will culminate in their marriage. Will their marriage take place without any mishaps? This will make interesting viewing. So see this show 'Sukhachya Sarini He Man Baware' with the special marriage episode at 9 pm on COLORS MARATHI!
---
Cloud tags – anushree dixit and siddharth tatwawadi he man baware serial, he man baware serial marriage photos, mrunal dusanis and shanshank ketkar he man baware marriage photos,
---