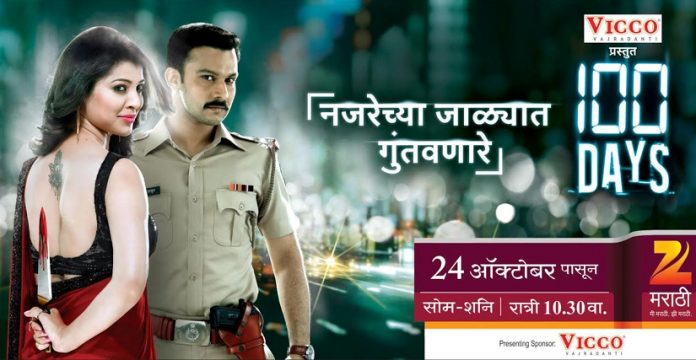 Serial Name: 100 Days (१०० डेज)
Star Cast: Aadinath Kothare, Tejswini Pandit
Start Date: 24 October 2016
Time : 10.30 Pm
Days: Monday to Saturday
Channel Name: Zee Marathi

Studio : Creative Vision
Producers : Santosh Ayachit and Sunil Bhosale
Writer : Santosh Ayachit.
Dialogues : Pralhad Kudtarkar.
Director : Vighnesh Kambali.
Singer : Harshadeep Kaur.
Music : Pankaj Padghan.
---
About 100 Days:
On Zee Marathi, along with its novelty, good topics are also being selected. By keeping Prime Time apart Zee Marathi has bring a new show at 10.30pm. A new Upcoming Serial Of Zee Marathi is with a big Silver Screen Starcasts like Adhinath Kothare and Tejaswini Pandit titled as '100 Days'. Along with these artists Ramesh Bhatkar, Archana Nipankar playing a lead roles. Serial is going to replace well known Zee Marathi's horror show 'Ratris Khel Chale' from 24 th October 2016 at 10.30 pm . Promo shows words like :
"Tichyapasun Jitka Door Jaycha Prayatn Karal,
Titkach Tichyat Adhikadhik Guntat Jal,
Manala Guntun Thewnari Ek Jagawegli Kahani."
100Days ….
The mysterious serial 100 days, is having specialty that it is of only 100 parts.
Its a story of Couple, Raani (Tejaswini Pandit) and Dhananjay Sardesai (Ramesh Bhatkar). Family of these two is going in a smooth way. But suddenly one day Dhananjay went missing. After search for many days there were no any clue of Dhananjay. So missing case of Dhananjay is hand over to the loyal police officer Ajay Thakur (Adinath Kothare).
Police inspector Ajay thinks that Raani is a suspect but he don't have any clues so he can't arrest her. Raani is also a talented girl in order to keep inspector away from case,  Raani always tries for temptation with Inspector Ajay, is a plot of the serial.
Entire team of Ratris Khel Chale come together again and makes this serial.
---
Serial Promo :
---
Posters and Photos : Click To Enlarge Images

---
Cloud Tags :
hundred days zee marathi serial
100days zee sirial
100days serial promo title track video stoiry
tejaswini pandit 100days serial
adinath kothare and tejaswini pandit serial zee marathi
---