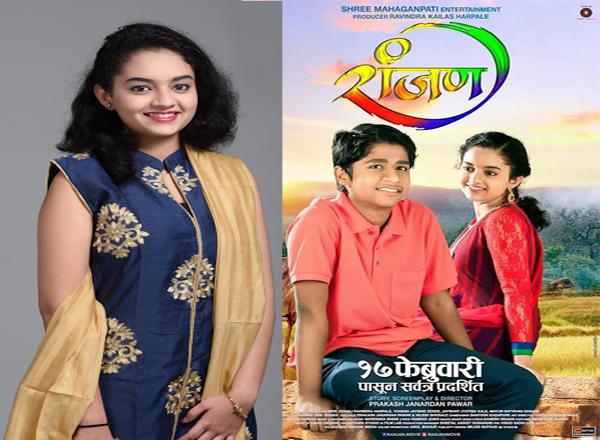 Exclusive : Ranjan's Gauri Suhas Kulkarni Speaks With MegaMarathi
Here's what the film's lead actress Gauri Suhas Kulkarni told Megamarathi about her mega debut in Ranjan, which release February 17, 2017 across Maharashtra.
There is more to the forthcoming February 17 release of Marathi film 'Ranjan' than just awesome singing by Ajay Gogavale. While 'Lagira Zala ji' has become a rage on social media, the film is also making the round for its social message as well as the leading pair of Yash Sanjay Kulkarni and Gauri Suhas Kulkarni, who play the chief protagonists of the film that deals with teenage love.
Interestingly, director Prakash Janardhan Pawar, Associate director Amira Mam and producer Ravindra Kailas Harpale, have decided to cast two teenager debutants — Yash and Gauri — to play the roles of the lovers.
While Yash is 16 and studies in Class IX in City High School, Sangli, Gauri too is all of 16, and studies science in Class XI from Bhausaheb Firodiya High School, in Ahmednagar.
Megamarathi caught up with the two hot debutants for a tete-a-tete with them about their experience of working in Ranjan and their debut.
---
MegaMarathi  : Please tell us something about yourself; our readers are excited to know more about you
Gauri Kulkarni (GK): I come from a family that is traditionally inclined towards music. I inherited the legacy of music and rhythm from my grandfather R B Kulkarni and my father and mother always encouraged me to hone my musical as well as acting skills.
I have successfully contested many music and dance competitions. Be it Ashta Vinayak Contest, Lokmat Contest, or musical competitions on Sahyadri or Saam Marathi I was always an avid participant.
I was awarded with a certificate by Indian Book of Records for my dance recital on ETV's Naad Khula programme. In fact, my first break to act in Ranjan happened only because of this programme.
Currently, I am studying Kathak for the fifth year from Manisha Tai Sathe's academy in Ahmednagar. I also won the Swaranand Ahmednagar award.
---
MegaMarathi : What was your experience like while shooting for Ranjan?
Gauri Kulkarni: It was an enlightening and ennobling experience to work with such talented actors from the industry. I am grateful to Prakash Sir Ravindra Sir for giving me such a superb opportunity to act in a film that espouses social message and offers a new outlook of looking at the youth in our society.
Of course, I learned a lot about what acting is all about from all those who I met and interacted during the shoot of Ranjan.
---
MegaMarathi : Tell us why anybody should watch Ranjan?
Gauri Kulkarni : The film offers a fresh outlook towards how society deals with teenagers who fall in love and the film ends with a social message that is quite touching and enlightening. Ranjan will offer the country's youth with a beautiful cinematic experience.
I am sure the film will be loved not just by a young audience but also those who are mothers, fathers, uncles, brothers, grandparents.
---
MegaMarathi : What are your future aspirations?
Gauri Kulkarni : While I am wishing and studying to be a doctor I always wanted to work with talented people in the Marathi film industry and learn what acting is all about.
MegaMarathi.Com team heartily wishes to Yash and entire Ranjan team for grand success.
---
Know More About Gauri Kulkarni —> Click Here
---