A Trailer That Redefines Love – Asehi Ekda Vhave !
Every individual's life is determined by the complexity of the relationships in his entire life. Every relationship has its own mark in the life of every individual. With responsibilities of each relation and while in his move in life, every person hopes for few things to happen the way he wants, or dreams – what if this could happen in my life? On this same optimistic aspects of the relationship, a new film is on its way to meet audience which is produced by Zelu Entertainments venture 'Asehi Ekda Vhave' under the direction of Sushrut Bhagwat. In presence of Umesh Kamat and Tejashree Pradhan, who are the lead star cast of the film, recently movie trailer and music launch was host on a grand note.

In the trailer of this movie, which was launched in the presence of all the cast and crew members, Umesh and Tejashri's love chemistry can be seen throughout the trailer. While the new and modern look of Tejashree, playing a role of R.J. is a pleasant shock for her fans. The trailer also features their unconventional love story, with a journey experienced by us before committing to any relationship. Moreover, along with both we can also see the artists Sharvani Pillai, Dr. Nikhil Rajeshirke, Chirag Patil, Kavita Lad and Ajit Bhure are seen in the trailer. The audience has liked the songs 'Kiti Bolto Apan' and 'Savare Rang Mai' which were launched alongside the trailer of this movie.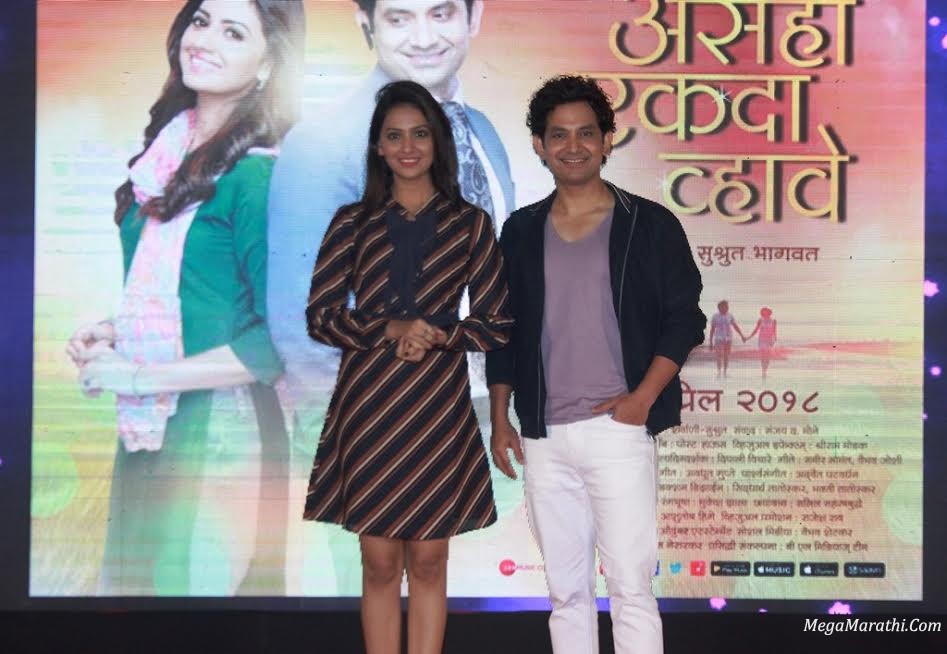 Vaibhav Joshi has written the song 'Kiti Bolto Apan' which has been directed by Marathi musician and music director Avadhoot Gupte and has been recorded in the voice of the Kirti Killedar. While the song 'Savare Rang Mai' is written by Samir Samant, is sung by Savani Shende. Apart from this, songs 'Bhetate Ti Ashi' and 'You Know What' has also given charm to the audience. Avadhoot Gupte has composed a romantic song, a ghazal and a classical thumari in this film.
So, along with the super hit trailer of this film, the audience was able to experienced live concert of melodies songs of the film during the event. Madhukar Rahane has produced the film which a love story, supported by Ravindra Shingane. This movie, which will redefine the meaning of love, will hit the theaters on April 6.
---