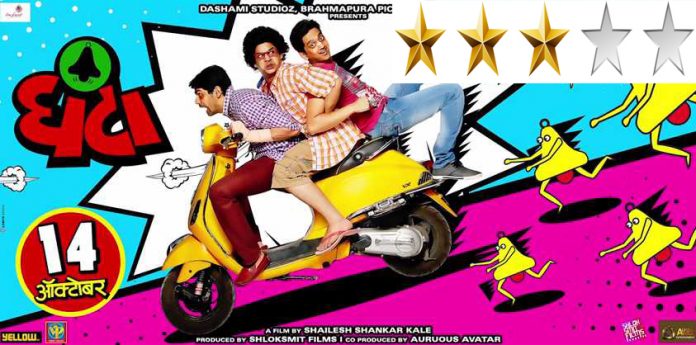 Movie : Ghantaa (2016)
Producer : Vinay Waman Ganu
Director : Shailesh Shankar Kale
Studio : Arbhaat Films, Kharapoos Films
StarCast : Aroh Velankar, Amey wagh, Saksham kulkarni, Shivani Surve, Anuja Sathe, Kishor Kadam, Pushkar Shrotri, Viju Khote, Murli Sharma, Bhau Kadam, Kanchan Pagare, Vijay kadam, Ganesh Mayekar, Mayur Khandge
DOP : Siddhartha More
Genre : Thriller, Comedy
Release Date : 14/10/2016
---
Trailer :
---
Synopsis :
Ghanta Movie is about three friends, Raj (Amey Wagh), Angad (Aroh Velankar) and Umesh (Saksham Kulkarni) who are unemployed and earn money through illegal betting. The betting racket is operated by local goon Chintya (Kadam). In order to repay a debt of 5 lakhs, they get into a local gang.
---
Positive Points :
Starcast has done a appreciable work and they have done a very nice collective work and given a justice to their characters.
Negative Points :
Little bit sloppy in first half.
---
Review :
As discussed earlier every actor has done a appriciable work in the movie. So this crime comedy gives a great feeling like Hindi Movies. First half is little bit sloppy but second half has managed all the things which are skipped during first half. All the comedy punches are enjoyable. Directors hard work in making this mad comedy has worked well. The photography, editing, screenplay and other technical elements are fine yet they failed to enhance the entertainment value to a great extent.
---