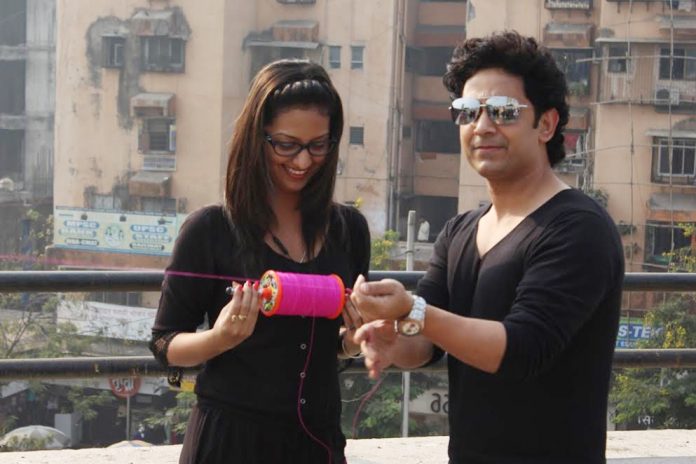 Tejashri Pradhan & UmeshKamat to Share Screen in Their Upcoming Film – Asehi Ekda Vhave
Popularly recognized as Janhvi – Tejashri Pradhan and talented Marathi actor Umesh Kamat, recently has celebrated Makar Sankranti together, with a great enthusiasm on the launching of their upcoming movie's teaser.  They will be sharing screen with each other for the first time, in their upcoming movie, Asehi Ekda Vhave which is produced by Zelu Entertainment. The event for official declaration of the movie was held at Plaza cinema, Dadar. During this event, movie's teaser and motion poster was also launched.
Movie Teaser – 
On the eve of Makar Sankranti, Umesh and Tejashree, with their warm wishes, distributed Tilgul to their fans present at the event. They also took this chance to fly kites, after the event. Both were amused and excited while flying kites in the sky.
Asehi Ekda Vhave Movie Photo Gallery – Click on Image to Enlarge –
Sushrut Bhagwat and Shri Madhukar Rahane has directed and produced the film respectively. For this film, Madhukar has received a precious support from his friend Shri Ravindra Shingane. From the launched teaser, one can guess that it is going to be a romantic movie. Till now, not much can be said about the movie from teaser.  Actress Sharvani Pillai is also having a lead role in the movie. The film is going to present a new language of love, and will be release in cinemas throughout Maharashtra on 6th April 2018.
---