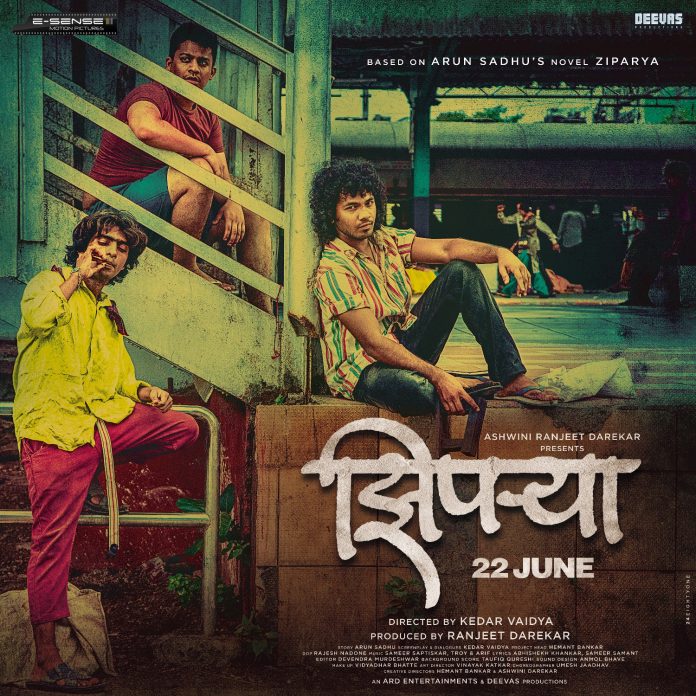 Renowned writer, journalist – Arun Sadhu, a prominent name in Marathi literature. His work has been honored with many awards. One of his famous novel will soon be featured in a Marathi film titled – 'Ziprya'
Presented by Ashwini Darekar, 'Ziprya' is produced by Ranjit Darekar with Kedar Vaidya's screenplay and direction to it. Three Maharashtra State Government awards have been announced for this film – Best Editing, Best Art Direction and Best Costume, while two nominations have been announced for the category – Best Movie and Choreography. 'Ziprya' will hit cinemas on 22nd June 2018, all over Maharashtra.
On the poster of 'Ziprya', three children are seen sitting on the platform at railway station. There is no way to know for what and why they are waiting. One of them is sitting on staircase, while other one is standing alone, one of them is giving a raw look. One of them is having equipment of boot polishing. Who are these guys? What are they doing at the railway station? These questions has raised in the mind while looking at the poster. We will have to wait till the film hits cinemas to know that all is hidden in it. With its unique name at first and now with such a suspension poster, the film has increased the curiosity and excitement in the minds of audience.
A novel by Arun Sadhu, has been directed by Kedar Vaidya, in which Chinmay Kambli, Prathamesh Parab, Shaksham Kulkarni, Amruta Subhash, Aman Attar, Devansh Deshmukh, Nachiket Purnpatre, Praveen Tarade, Vimal Mhatre and Deepak Karanjikar are included in as cast of the film. The music of the film is composed by Samit Saptiskar and Troy-Arif, while lyrics for the film is written by Abhishek Khankar and Sameer Samant. Vinayak Katkar's Art direction, Choreography by Umesh Jadhav and DOP Rajesh Nadone, this film is a must watch.
Producer Ranjit Darekar and presenter Ashwini Darekar had already taken a dignified view of the audience by presenting a film showing the reality of heart touching and criminals like Rege, and now they have brought an intensive movie to the audience in the name of 'Ziprya'.
---