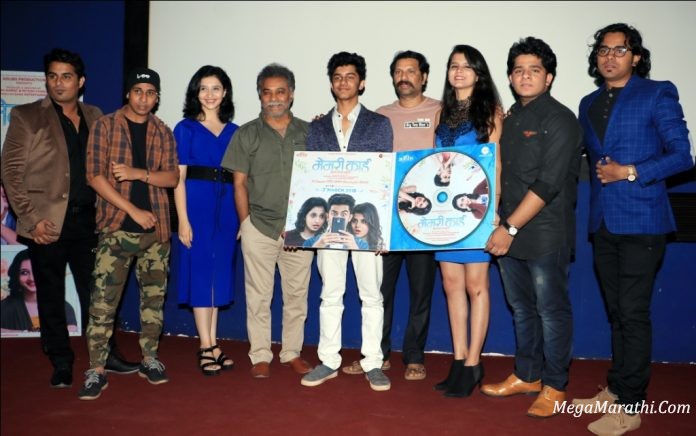 Memory Card: "Thevavi Lagate Mahiti" is Set to Release on 02 March 2018 !
Beauty of Kokan blended with unique friendship of four friends. First adolescent step sprinkled by love…and the confusion at large for this foursome friendship in a matter of sheer enthusiasm…With a distinctive touch film "Memory Card" is releasing in entire Maharashtra on the 2nd march 2018.
Practical implementation of changes under changing times always takes its own time to settle. These changes on every one of us are depicted in a jovial manner in this film. Smartness is a pre-requisite for using a smart phone…The inconveniences faced due to lack of the same are highlighted in an innovative manner. In "Memory Card" you will experience a smart touch that a phone is not really essential to keep in touch with your own people. The film is produced and directed by a talented duo Priteesh Kamat and Mitesh Chindarkar and they have also provided the Music for the film with lilting tunes.
"Memory Card" is a maiden venture of Priteesh-Mitesh duo. The story is by Manali Kale and Shyam Samant. This will also be the first time to find Actor Sanjay Khapre and Sunil Tawde together in this film. Newcomers arriving through this film include Reeshabh Purohit, Vibhuti Kadam, Appurva Paranjpe, Pranali Chavan, Aditya Nakti, Kunal Shinde, Hitesh Kalyankar, Dinesh Patil, Kalpana Bandekar, Vijay Chavan and Akshta Kambli. The film is edited by Vijay Kochikar, Art Director is Pravin Chindarkar and Cinematography has been handled by Devendra Tanwar.
The film based on a simple story and with characters that can connect to your own life. A boy studying up to 10th standard at a village school in Kokan arrives to a city for further education. On one side is the natural uneasiness of a totally new atmosphere and on the other is an unknown girl helping her friend who is new to the city to get natural to city hustles and free his mind…Many such incidences are revealed in a manner where the audiences will morph with the character. One can say that it is the story of this film that plays the hero.
In fact this "Memory Card" would be an ideal Valentine Day gift to your valentine. Eminent singer Shankar Mahadevan will enthrall you with his special Ganapati song. Punyakar Upadhyay's inspiring dance performance on the same will entertain the audience. Mayuri Nevrekar will mesmerize you with her number '…click…click…'. While Javed Ali and Mahalaxmi Iyer has set the song 'Runa…Jhuna…' to tune, Javed Ali has also set the song 'Laj watate…to tune and Singer Sayali Patil will make the tears roll on your cheeks through her number "Dolyatalya aswana". "Memory Card" will arrive at the silver screen on the 2nd March 2018.
---