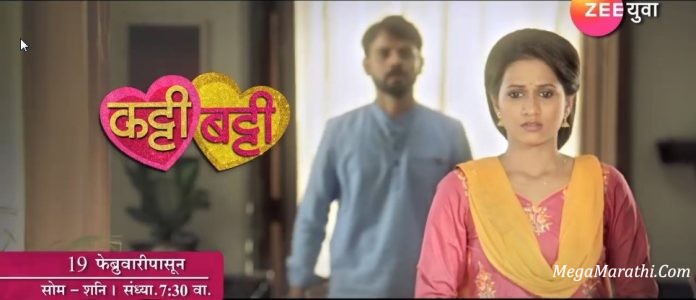 Zee Yuva's 'Katti Batti' (कट्टी बट्टी ) Promo Promises a Fun, Romantic Show!
Starcast – Ashwini Kasar,Vinod Lavekar, Nikhil Sheth, Deshpande Mandar, Gargi Phule-Thatte, Amruta Todarmal, Sneha Majgaonkar, Sourabh Kulkarni, Soura Prayag Varpe, Shrikrishna Sutawane, Raj Durge.
Director – NA
Producer – NA
Creative Director – NA
Production House – Potadi Entertainment
Title Track Direction – NA
Screenplay and Dialogues – NA
Executive Producer – NA
Title Track Lyrics –  NA
Singer – NA
Music – NA
Background Music – NA
Costumes – NA
Makeup- NA
Art Direction – NA
Cinematography – NA
Sound Recording – NA
Editor – NA
Production Manager – NA
Production Head – NA
PR – Harshit Mhatre
Channel – Zee Yuva
Starting Date – From 19th February 2018
Serial Timing – Monday to Saturday at 07:30 PM
---
About –
Zee Yuva is a channel that is known for its fresh and new ideas for its TV serials. The popular general entertainment channel has had several successes with its programming. The channel has the youth as
their target audience and today's youth is highly demanding. So Zee Yuva keeps coming up with new shows with their latest product being Katti Batti.
The channel has always encouraged novel ideas for a show and steered clear from typical saas-bahu melodrama. It is heartening to see them sticking to that policy till now. Katti Batti's promo was just released online and it seems like a really promising show.
The promo opens with a close-up on a couple who are sitting next to each other. They seem rather nervous for some reason. We are then immediately introduced to their families and realise that they have come together to finalise whether the couple will get married or not.
The two families get into a heated argument. The girl's family seems rustic and rural in their demeanour, while the boy's family is polished and urban. Both the sides have equal pride about their roots and indulge in name calling.
Katti Batti Serial Promo –
In your typical serial this would have been a perfect setting to begin an emotional melodrama, but Katti Batti chooses to look at the situation with a humourous outlook. The couple are both seen predicting the worst for their impending marriage with glee and our quite relieved when the girl's family choose to walk out of the house. But that is not the only place where the promo pleasantly surprises you.
The pair somehow seem to develop some chemistry in the moments that their families are taking potshots at each other. They seem to have sensed that both of them think alike and probably share the same outlook to life. As the girl's family stomps out of the boy's house steaming with anger, the guy asks her out! Yes, their prospective marriage just broke, but the couple is attracted to each other! Isn't that a totally novel idea?
In usual arrange marriage cases, we have the parents of the family forcing the boy and girl to meet each other. But, here, it's the other way round! (Also Read – Baapmanus – Zee Yuva Comes Up With A 'Baap' of All Shows !)
The girl played by actress Ashwini Kasar seems interested in the guy too. But after the big showdown between the two families, she doesn't know how the two would meet each other. And at that note the promo ends.
Well, it certainly succeeded in grabbing our attention. Will they simple and cute couple fall meet each other without the knowledge of their families? Will they fall for each other after they meet? If they do fall in love, then will their families accept their marriage?
We cannot wait to find answers to all this questions which would be answered from 19th February at 7:30 pm from Monday to Saturday on Zee Yuva.
Well, we certainly would be tuning in. What about you?
---
Cloud Tags – katti batti zee yuva serial starcast, kati bati marathi serial zee yuva, katti batti zee yuva serial actors real name, katti batti marathi series, katti batti marathi serial title track promo, katii batti serial song, kamla serial colors marathi, baapmanus zee yuva serial, katti batti serial episodes watch online, online zee yuva serials,
---