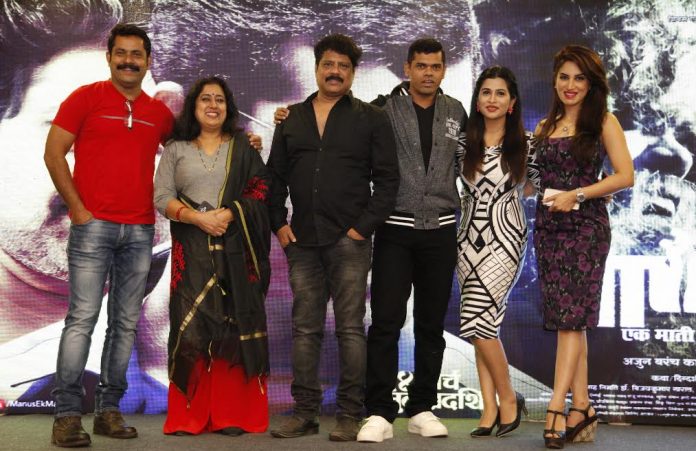 'Manus Ek Mati'…! A Movie That will Make You Change Your Mind!
There's a lot difference between a normal Marathi movie and such a movies, along with a mind boggling ideas they also have very mature titles. 'Manus Ek Mati' is one of such novel movies which will be released on coming 24th March! With such an interesting and mature name the movie is expected to be equally mature! Everyone turns to dust after death, is an undefinable truth, but what if our lives turn to dust while we are still alive?
A production of 'Shivam Entertainment India Limited', produced by Sharada Vijaykumar Kharat, co producer Dr. Vijaykumar Kharat, Dilip Nimbekar, and executive producer Deva Pandey give this movie it's essence. That's why writer and director, Suresh Zade chose 'Manus ek mati' which such a mature and bold topic. Suresh Zade being the writer of this movie, the screenplay has been taken care of by himself and Raju Sapkal.
The acting of famous actors Siddharth Jadhav and Ganesh Yadav will be a satisfactory experience for the viewers. Ruchita Jadhav, Swapnil Rajashekar, Harsha Gupte, Dr. Vilas Ujavne, Varad Chavan, Kishore Mahabole and Jagganath Machine have also justified their roles beautifully. Prashant Hedaoo is the lyricist as well as the musician for the movie. The songs have been voiced by Swapnil Bandodkar, Dr. Neha Rajpal, Aadarsh Shinde, Bela Shende, Sheena Arora and P Ganesh.
There have been many cinemas , articles, talks on the topic 'Mom' but, ' Manus Ek Mati' is a beautiful film which talks about a dad's heart, and that makes this movie soo special. 'Manus Ek Mati' is a heart touching movie that can be watched with your entire family and it'll tighten the bonds among you. Apart from its name, this movie has a lot more to tell us. Soo don't forget to catch it from 24th March onwards in your nearest movie theatres!
---