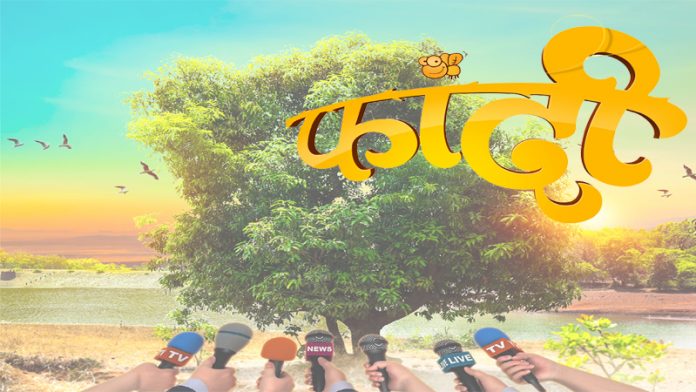 Many artistes obsessed with acting in films come to Mumbai in search of opportunities. But not everyone is able to convert a chance to gold. When there are many examples of artistes who have struggled and returned home unsuccessfully there is the example of Ajit Sable from Khanapur in Kolhapur, who whole heartedly believed in his efforts. His journey is an inspiration for many. With his obsession for acting, Ajit came to Mumbai. He did not know anybody in Mumbai. Initially he did whatever work that came his way. It was necessary to hold on in Mumbai. After getting sufficient experience in plays, television and movies, he is now ready to show his directorial skills.
Ajit has written and directed 'Dhwaj Creation' produced film 'Fandi'. The shooting of 'Fandi' was done in taluka Aajra of Kolhapur and at Chitranagri in Mumbai. Coming to Mumbai, working on a tea-cart and at the same time dreaming of directing his own film is today a reality. The movie is releasing on the 20th July,
Sayali Shashikant Patankar is the presenter of the film, Rajesh Kharkar, Sayali Patankar and Mahendra Somase. Arun Nalavade, Bhushan Ghadi, Nitin Anand Bodare, Sandeep Juwatkar,Vishal Sawant, Amol Desai, Baba Karde, Satish Hande, Phiroze Fakir, Bhagyashri Shinde, Sneha Sonawane, Sugandha Sawant, Chanda Jamble are the actors in this film.
The story, screenplay and dialogues of 'Fandi' are written by Ajit Sable, lyrics and music given by Kunal-Karan. Aadarsh Shinde, Bela Shende and Nagesh Morvekar have sung the songs. Cinematography is by Sanjay Bapu Thorat and editing is by Anil Vitthal Thorat. Art direction is by Rahul Vyavhare. Choreography is by Ganesh Sarvankar. Bhushan Aangane, Mrunali Sable, Vitthoba Tejas, Amol Desai, Sachin Gaikwad, Jeetendra J. Bhambania and Anil Shinde are the co-producers of the film. (You May Like  –  Romantic Musical Love Story 'Jhing Premachi' Releasing on 29th June)
Ajit said that the story of 'Fandi' is based on his personal experiences. the story narrates of how for personal gains people spread a web of blind faith, it also shows how some politicians along with the society cheat a family. While presenting the reality of society he hopes that people will appreciate his efforts. 'Fandi' will be released widely on the 20th of July.
---