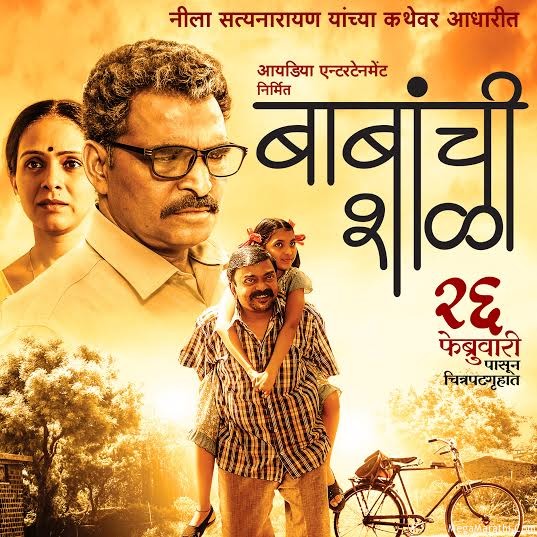 Babanchi Shala (2016) | Marathi Movie
Star Casts :

Sayaji Shinde, Shashank Shende, Aishwarya Narkar, Kamlesh Sawant, Chaya Kadam, Aarti More, Karthik Chavan, Umesh Bolake, Milind Adhikari , Child artist Gauri Deshpande, Uday Tikekar , Usha Naik , Dr. Vilas Ujawane & Sharad Bhutadia.

Producer : Vilas Mane and Umesh Nathani.
Co-Producer :

Hansraj Patel & Navin Patel.

Executive Producer

: Mangesh Jagtap
Director : R. Viraj.
Scripts and Dialogues : Parag Kulkarni.
Lyrics : 

Srirang Godnbole and Nila Satyanarayan.

Music : Sohan Pathak &

Neela Satyanarayan.

Singer :

Suresh Wadkar and Vishwajit Borwankar.

Camera :

Ankush Birajdar

.
Editor :  Nilesh Navnath Gavand.
Art Direction : Raj Sandbhor.
Make Up: Santosh Gayake
Costumes : Sampada Mahadik

.

Release Date : 26 February 2016.
---
Plot :
Vilas Mane and Umesh Nathani produces 'Babanchi Shala' story revolves around a prisoners and his families. This is a story of 'Mahipat Ghorpade' who have made a big crime with angry mind which leads to life imprisonment by the court and then seperation from his family…. but how prioner Mahipat Ghorpade overcome this unpleasant experiance. If someone get punished for his crime , he is not only punished but his whole family gets affected a lot , this will be seen in movie. The story revolves around Prisoner Mahipat Ghorpade , his daughter 'Sonali' , Prisoner Head 'Shrikant Jamdade' and social worker 'Neeta Satam'.
---
Posters And Still Photos :
---