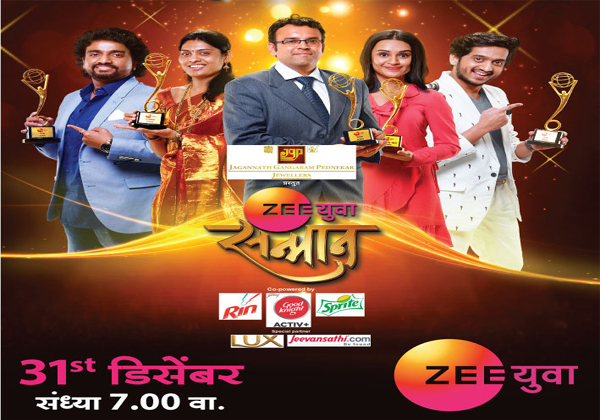 Many Youths are working so hard to eradicate this understanding that -Youngsters live a life in a way they want to… without thinking it's their consequences. Zee Yuva has taken a Step ahead to encourage this youths by recognizing their work and felicitating them at Youth Awards – Zee Yuva Samman. Zee Yuva Samman Award has been given to the youth who are doing remarkable and exemplary work in various fields. This event will be shown on Zee Yuva on Sunday 31st December at 7pm.
In the series of awards, eleven young youth from ten different fields will be  awarded. Vidyut Gujrati, Nashik's chess player,has been awarded with the 'Zee Yuva Krida Samman' Award. Dipesh Tank, the youngster who strained the about 150+ sexual harassment at railway station with the help of Mumbai police, has been awarded with the 'Daksh Nagarik Samman' award. Young writer Sudip Nagarkar has been awarded the 'Saahitya Samman' award.

Mumbai's Sachin Teke will be awarded with the 'Udhyojak Samman' award for creating an effective traveler app. Yavatmal's Ajinkya Kottwar, who took the most patents at the age of just 25, is selected for the awarding the category of 'Science and Technology'. Performing small shows in and around the city, with his intense struggle, started his own Radio channel, Satish Nawale of Karadhas been awarded with the 'Nirdhar Sanman' award.
Lalita Babar is the awarded with 'Yashaswita Sanman', who is a runner and has earned her a name as Runner Golden Girl. Amey Wagh, who plays various characters in many short films, drama and series, will receive the 'Kala Sanman' award. Singer Adarsh Shinde and musician of the era new era, Priyanka Barve, both will be awarded with 'Sangeet Sanman'. Became an orphan at childhood age and brought up in orphanage, completed engineering, left job of salary in lakhs and start his NGO,Sagar Reddy will be given the 'Samajik Samman' award for his work for orphan.

Zee Yuva and Zee Talkies Business head, Bavesh Janavalekar said that "Zee Youth Awards are for everyone, who believe in themselves and dare to do something different in life and become the role model for society. This 'Zee Yuva Samman' program will surely encourage the youths performing a unique deed towards the society. And we are sure that the audience of Zee Yuva channel will also encourage and appreciate this kind people. Audience will also like this last entertainment program of this passing year on 31st December."
---