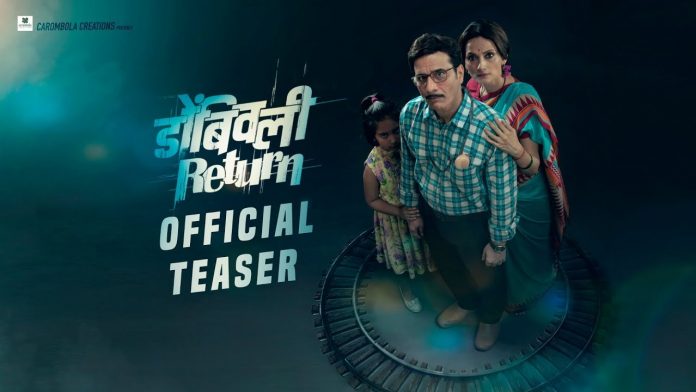 The hustle bustle of the local Train, the thronging crowds in Mumbai in local trains and the questions raised in the minds over this issue and the stress in the commuters minds and now a film on this issue comes titled 'Dombivli Return' which signifies that what goes around comes around . The films impressive teaser expresses this in a fast and impressive way. Naturally there are a lot of expectations from the film which have increased from the prequel and recently the powerful teaser was launched on the social media.
Dombivli Return Teaser –
The movie is produced under the banner of Carambola Creations with producers Sandeep Kulkarni, Mahendra Atoley, Gurmeet Singh, Kapil Jhaveri who  have combined for the film. The film is written and directed by Mahendra Teredesai. The film stars Sandeep Kulkarni and Rajeshwari Sachdev in stellar roles along with Hrishikesh Joshi, Amol Parashar, Hrishika Shinde, Siya Patil, etc. The DOP is Udaysingh Mohite and editor is Yogesh Gogte. The music and background music composer is National Award winner Shailendra Barve and the sound designer is National Award  winner Anmol Bhave.
The film revolves around the character of Anant Velankar played by Sandeep Kulkarni. The incidents which cause turmoil in the life of an average middle class named Anant Velankar  and turns his life upside down is the gist of the film.  Those who watch the trailer of the film will identify with the jam packed local train journey and the common man's problems regarding his travel. The film will be an insight into the common man's problems. The film which gives something and takes something will release on 22 February.
---