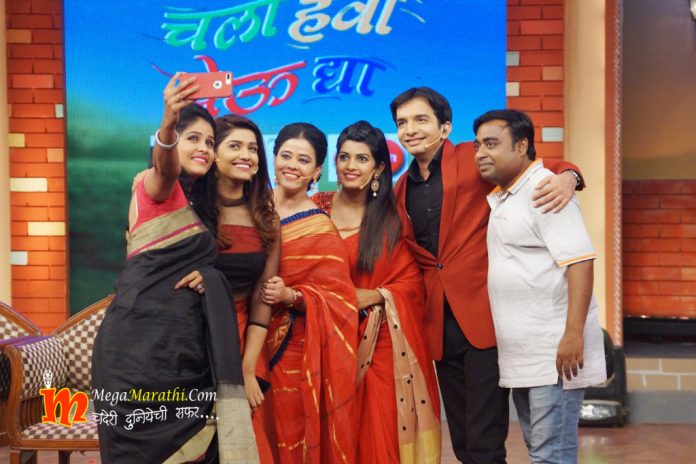 Comedy has become a delightful word in today's age. We all come across it on various levels. "Chala Hawa Yeu Dya", a marathi comedy chat show which airs on Zee marathi continues to cater a pure and healthy comedy to all it's audiences. With many seasons in its kitty, the show still has kept freshness in it's genre. This show has kept it's standard all long way with variety of comedy skits being presented in the show along with the performers Nilesh Sable, Shreya Nigade, Bhau Kadam, Kushal Badrike, Bharat Ganeshpure and Sagar Karande. This show also highlights the efforts taken by these artists.
With Maharashtra Daura season and Vishwa Daura season, popularity of the show "Chala Hawa Yeu Dya" has not limited itself with Marathi entertainment industry. This show has been applauded for providing a great homely promotional platform for the Marathi films and theatre to reach every home with it's success. Most famous actresses from the show "Mazya Navryachi Baiko", Radhika (Anita Date) and Shanaya (Rasika Sunil) along with "Pathak Bai" (Akshaya Deodhar) and Nandita (Dhanashree Kadgaonkar) from "Tujhyat Jeev Rangala" will be seen on the sets of "Chala Hawa Yeu Dya" for the upcoming episodes.

All the comedians filled humor on the sets of "Chala Hawa Yeu Dya" in presence of these adorable and charming ladies. Also, you will see the team welcome them with a special parody song. Nilesh Sable played various funny games with these actresses. All these beautiful ladies would be seen romancing with Bhau Kadam on the sets of the show which would definitely leave all it's audiences in laughter.
So, don't forget to watch your famous TV show celebrities of Zee Marathi in their different styles having awesome fun with all the comedians on the sets of "Chala Hawa Yeu Dya" on 11th and 12th June at 9:30 pm only on Zee Marathi.
---