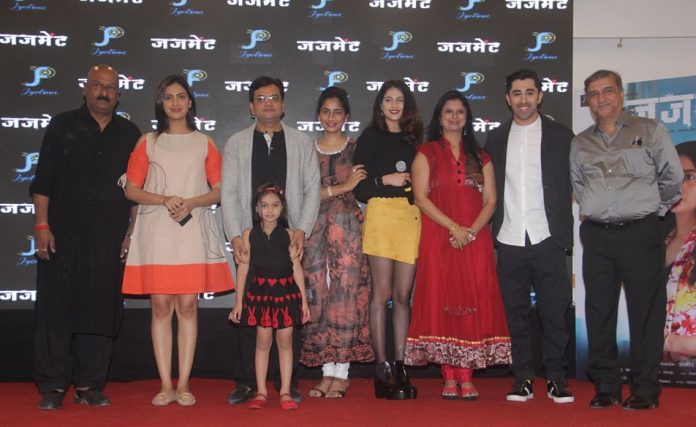 Jyotsna Film Productions 'Judgement' has been announced recently. On the occasion snippets of how the film was shot, behind the scenes happenings, and other tit-bits was screened in the video format. Director Sameer Ramesh Surve has a cast comprising of Tejashri Pradhan, Mangesh Desai, and Madhav Abhyankar.
The film is based on former Culture Officer of Government of Maharashtra, Neela Satyanarayan's novella 'Runn'. Sameer Ramesh Surve has earlier directed 'Shri Partner' based on VA .PU Kales novella  'Partner'and 'Shubh Mangal Saavdhaan'. And so there must be a lot of novelty in 'Judgement' too. Dr.Pralhad Khandare and  Harshmohan Krishnatray had earlier produced 'Pakda Pakdi' with Ashok Saraf in the lead. The lyrics writer of the film is Mandar Cholkar and music composer is Naval Shastri. The other artiste in the film is Shree Partner fame Shweta Pagar. The other artistes in the film are Satish Salagare, Kishori Ambiye, Mahendra Teredesai, Shalaka Apte, Vijay Bhanu, Shilpa Gandhi, Prateik Deshmukh, Nilesh Deshpande, and child artistes Chaitri Deshmukh, and Numayara Khan.
On the occasion the grandson of the Father of Indian Constitution Babasaheb Ambedkar's , Anandraj Ambedkar , JV Pawar ( Member of Dalit Panther Formation Committee and Dalit Litterateur ), Arjun Dangle ( Dalit Panther Party Member and Dalit Litterateur) , Advocate Jaydev Gaikwad (Former MLA, Dalit Panther Member) and other dignitaries and on this occasion a Hindi film 'Panther' was too launched which is being written and directed by  Harshmohan Krishnatray as well.   
---