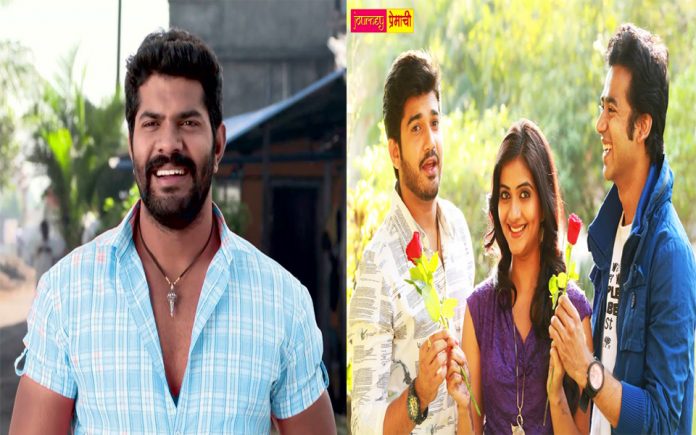 Ranada in Villain's Role for 'Journey Premachi'
In his own Kolhapuri style saying 'Chaltay ki' he has made a place in everyone's heart, innocent Rana Da from 'Tujhyat Jeev Rangala' will soon be playing role of a villain . No no… not in the serial… Hardik Joshi popularly known as 'Rana' will be playing role of a villain.
Ranada – Anjali's soft romance story is the new favorite of serial lovers. The way Anjali looks in this is really beautiful, same way is Rana's strong built, innocence and his language is loved by all. Because of that Akshaya Deodhar and Hardeek Joshi are now like family members to TV serial lovers. Out of them Hardik soon will be coming in 'Journey Premachi' a Marathi movie on big screen. But, not as a hero, as a villain.
Looking at Hardik's built, many times producers- directors have chosen him for roles of villein. Amol Bhave being the cinemas director has taken care of dialogue writing too. In 'Journey Premachi' along with Hardik; Kashmira Kulkarni, Madhav Devchakka, Abhishek Sethiya will be seen.
Recently this movies song release, poster launch and trailer release took place, that time all the stars from the were present for the promotion. Similarly, producer Adil Bloch, front man Parth Shah actors Pradeep Patwardhan, actress Deepjyoti Naik, composer Nikhil Kamat, song writer Aashay Parab, Vimal Kashyap, singer Puran Shiva, singer Annie Chatterjee were present too. It's a Parth production, Gurjeet Singh Bindra presentation and ARB 9 films production. Rahul Pandit, Hilal Ahmed and Dinesh Devlekar have done the story and screenplay writing.
Don't miss to watch this exclusive Rana's role for Journey Premachi on this 10th March.
---