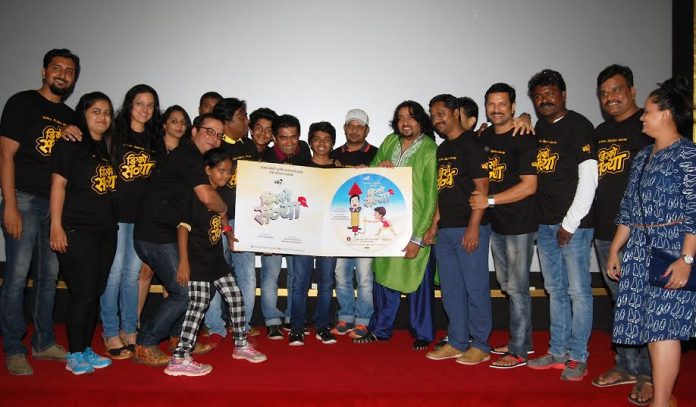 Music and Theatrical Trailer for 'Bhoothnath Returns' Sensation Parth Bhalerao's First Solo Lead Film Launched
 Film marks multiple debuts – Music director duo of Sachin – Abhijeet as Producers, Niyaz Mujawar as Director and 13-year-old Reeshab Purohit as Playback Singer
In addition to renowned singers Avadhoot Gupte, Nandesh Umap and Adarsh Shinde, the films soundtrack also features, for first time in Marathi Cinema, internationally renowned singer Shabab Sabri
Vakav Films today launched the theatrical trailer and music of their maiden Marathi feature film 'Disco Sannya'. Produced by music director duo of Sachin Purohit and Abhijeet Kawthalkar and starring 'Bhoothnath Returns' sensation and National Award winner Parth Bhalerao, in his first solo lead in a Marathi film, Disco Sannya is all set to captivate audiences, both kids and adults, alike on August 5, 2016
Commenting on the occasion Sachin Purohit, said: "Over the last 6 years my family and I have been involved in charities that work with underprivileged and orphaned children. Through this entire duration what really amazed, struck and has stayed with me is their amazing spirit for life that lives on in spite of their hardships and the cruel twist the world has dealt them with. It's what we call the amazing Chingabunga spirit. A couple of years ago I shared this with Abhijeet and we both decided that we needed to spread this spirit as far as we possibly could.
"Disco Sannya was thus born. However, right from the start both of us were absolutely sure that this had to be an engaging, commercial family entertainer and not a preachy restrictive movie. I am really glad that we have succeeded in our endeavor and, as is evident from the theatrical trailer, am confident that audiences will really like the movie," added Sachin.
Furthermore, directed by debutant Niyaz Mujawar and co-starring Sanjay Khapre, this well crafted social drama is laced with an interesting thriller plot and foot tapping soulful music. The movie features three songs and a promotional song which all feature traditional Marathi beats and emotions perfectly fused with modern youthful tunes and compositions.
Commenting on the music of the movie Abhijeet Kawthalkar, said: "Today's audiences are no longer satisfied with traditionally good compositions. Apart from the core need of taking the story forward through the music, music directors today also have to constantly keep innovating and experimenting with beats, tunes, lyrics and compositions to keep the audience engaged and entertained. The music of Disco Sannya has been carefully composed in keeping with this very need and each and every song has a very distinctive element of innovation and experimentation designed to captive all audiences alike.
"While 'Sadha Majha Roop…'sung by Adarsh Shinde beautifully fuses traditional Marathi tunes with the 'Tara Tapattai', a traditional South Indian musical instrument, 'Jai Hari Vitthala…Allah hu Akbar' features lyrics that portray a very secular emotion made unforgettable by the soulful folk tunes of Shahir Nandesh Umap married to the Sufi style of the globally renowned Shabab Sabri (for the first time in Marathi Cinema).
'Chingabunga' sung by the 13 year old Reeshab Purohit and Adarsh Shinde, as well as, 'Ala bagha Disco Sannya', the promotional song of the movie sung by the evergreen Avdhoot Gupte are both foot-tapping numbers composed for the young audience of today.
While all the songs in the movie are composed by Sachin Purohit and Abhijeet Kawthalkar, director Niyaz Mujawar has written the lyrics and Zee Music has partnered as the music label for the album. Further, while the dialogues for the film have been written by Niyaz and the story and screen play have been written by Niyaz, Sachin and Abhijit.
Other credits include Actors – Chitra Khare, Gauri Konge, Actors Suhas Shirsat and Umesh Jagtap; Director of Photography – Sandeep Patil; Editor – Milind Damle; Choreography – Bhoumik Shah; Art Direction – Siddharth Taluskar; Costumes – Purti Kulkarni; and Make-up – Santosh Kilbile.
---
Trailer :
https://www.youtube.com/watch?v=0WOGJyJ5aLk
हि बातमी मराठी मध्ये वाचण्यासाठी येथे क्लिक करा
---