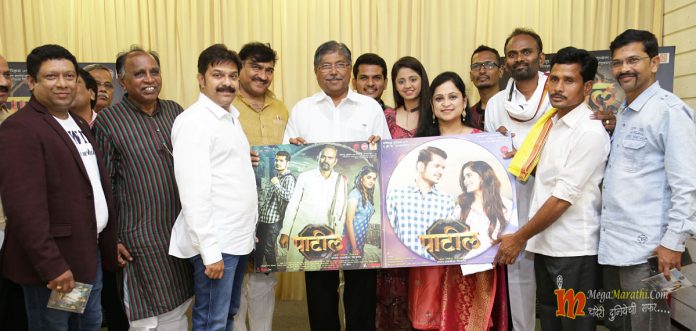 Films which highlight the harsh realities of society have always been appreciated by the audiences. Such a story of idealistic stubborn boy and his conflicts is 'Patil' whose music was recently launched in a grand manner at the hands of State Minister for Revenue , Rehabilitation and public building works , Respected Mr. Chandrakant Dada Patil. On this occasion The CM of Maharashtra's special duty officer Shri. Shrikant Bhartiya. MLA Prasad Lad, MLA Ramrao Vadkute, , Kokan Chief Officer Dr.Jagdish Patil, Swati Khopkar, Pandurang Lolge, Rupesh Tak, Satish Govindvar, Archana Lolge, Jayshil Mijgar, and other celebs were present. Director Santosh Rammina Mijgar was praised for his efforts uptill now by Chandrakant Dada and other dignitaries present. The film 'Patil – Dhyas Swapnancha', produced under the banner of StarCraft Entertainment Pvt Ltd, Sachiket Productions,  Shoubham Cinevisions Pvt Ltd is all set to release on 26 October.
The film with entertainment values and also an inspiring story has been supported by good songs and music .The film has five songs . The Boombox song 'Patil Patil' sung by Anand Shinde, Adarsh Shinde, and the romantic ballad 'Tula Pahun' has been sung by Vishnu Mohan, Bela Shende, and it has simply zapped the listeners. 'Surya Thambla' this emotionally touching song has been sung by Sukhvinder Singh and Reha Vivek. 'The songs 'Radhela Pahun and 'Din Tak Dhin' with its foot-tapping music is sung by Ganpat Mijgar, Bbaul Supriyo, and Shreya Ghoshal. The lyrics of the various songs have been penned by Guru Thakur, Suresh Panda-Jafar, Sanjay Warang, SRM, and the music is by Anand-Milind, Sonali Uday, Prabhakar Narwade, DH Harmony, and SRM Elien. The background music is by Amar Mohile. The films music has the label of ZEE MUSIC and has been released recently.
The film traces the inspirational journey of Shivaji Patil. The cast comprises of Shivaji Lotan Patil. Varsha Dandle, Bhagyashri Mote, Narendra Deshmukh, Pratima Deshpande, Suresh Pillay, Kapil Pillay, SRM Ellien, etc and a very very special appearance by Konkan chief Dr. Jagdish Patil.
The film's story. screenplay has been written by Santosh Rammina Mijgar and directed by him too. The film is presented by Bollywood Tourism and AVK Entertainment . Tejal Shah, Nita Lad, Jay Mijgar, Satish Govindwar, Gopichand Padallkar, Madhukar Lolge, Roopesh Tak, are the producers. The DOP is Sudhakar Reddy Yakanti, Raja. The choreographer is Subhash Nakashe. Digital promotion of the movie is handled by Mayuresh Bagawe.
The film is set to release all over Maharashtra on October 26.
---