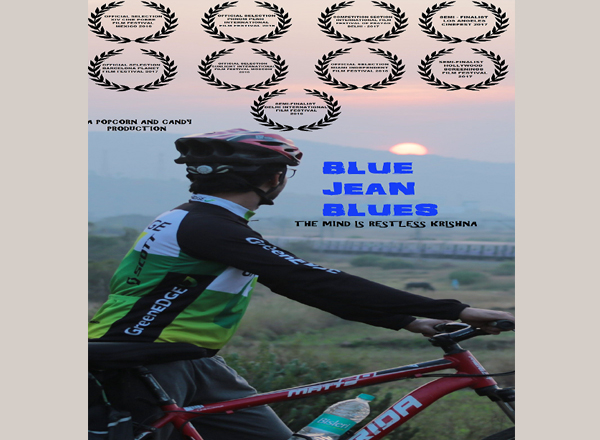 One More for the Encouragement of the YOUTH!
'Blue Jean Blues' will light up the way between Disappointment and Excitement.
In today's tech-savvy world the youth is always competitive, due to their increasing wants, dreams and immediate results attitude they suffer from depression too soon. Especially, the depression due to relationship failures break them down completely. We will be seeing the story of todays youth and such broken hearts in the upcoming movie 'Blue Jean Blues'. This movie which has been directed by Dr. Nitin Mahajan focuses on the challenges faced by the youth mentality. Moreover, this movie is looked upon for because it is going to be  the last movie of a very attractive actress Ashwini Ekbote. Eventhough this movie revolves around a depressed youth , the role of Ashwini Ekbote will aflame many souls.
Dr. Nitin Mahajan has not only directed the film, but he has also written and produced it. When asked about his view about the movie ; he said, " The movie has tried to project the ups and downs in life. If something happens against our will we feel disappointed. This hurting of soul is much more intense than external injuries, because it directly affects our lifestyle and pursuit. Hence , before making any rash decisions we should give ourselves sometime,  consult with other experienced people and thus we can try to avoid the disappointment'. This movie is an encouragement for the disheartened youth.

The lead cast in this movie are Raj Thakur , Shweta Bist, Dr. Sanjeevkumar Patil , Radhika Deshmukh and Ashwini Ekbote. The speciality about this movie is that this movie has gained fame not only internationally , but also intercontinentally. Last year this movie bagged a prize for being the best self funded cinema in the Cine porb film festival held in Mexico. Similarly, 'Blue jean Blues' movie has gained a good publicity and positive reviews after presenting its previews in various film festivals held in Barcelona planet, Miami and Los Angeles.
---