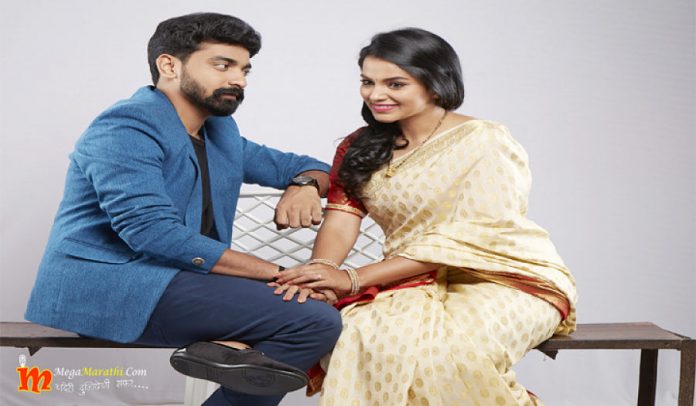 Tu Ashi Javali Raha – तू अशी जवळी रहा Zee Yuva's New Serial
Starcast – Tithiksha Tawade, Siddharth Bodke
Studio – Seventh Sense Media
Producer – Shashank Ganesh Solaki
Director – Ganesh Rasane
Story – Shashank Ganesh Solaki
Screenplay – Shashank Ganesh Solaki, Santosh Sudhakar Prabhune
Dialogues – Amit Bhaiche
Title Track Lyrics – Vaibhav Joshi
Cinematography – Sandeep Varadkar
Assistant Direction –
Sound Design – Arun Mishra
Editor – Asim Ahmad, Sanjay Paradkar
Online Editor – Sachin Kelkar
Co-editor – Amol Sodey, Nitin Pradhan
Title Track Music – Avinash – Vishwajeet
Singer – Rohit Raut, Hargun Kaur
Art Direction – Rajesh Sapte
Background Music – Omkar Dange
Choreographer – Vrushali Shashank Dabake
Costumes – Anjali Khobrekar, Ankita Jathar
Make-up – Prasad Parab, Vidya Borade
Post Production – Pravin Pavaskar, Yogesh Gavas
Creative Head – Santosh Sudhakar Prabhune
Production Management – Suyog Shinde, Chetan Birla
Production Manager – Vinayak Aadivarekar, Sunil Kulkarni
Executive Producer – Vinayak Sharad Bhokare, Sanjana Malap
Research Head – Sushrut Sawant (Zee Yuva)
Research Team –  Pallavi Ketkar (Zee Yuva)
Promos and Title Montas – Shaishav Shivangi, Shankar Parab
Promo Head – Mahabaleshwar Latadevi Vasudev Narvekar
Marketing & Publicity – Rohan Patil, Nishant Jadhav, Harshit Mhatre, Veda More (Zee Yuva)
Marketing Head – Charmi Kanabar (Zee Yuva)
Channel Team – Anushka Sawant, Sachin Sarangale
Sr. Creative Producer – Ruchita Rajendra Gurav (Zee Yuva)
Channel Head – Bavesh Ramdas Janawalekar (Zee Yuva)
Channel – Zee Yuva
Serial Starting Date – 01 October 2018
Serial Timing – Monday and Saturday at 07:30 PM
---
About –
ZEE YUVA in a short span of two years has won the applause of the Marathi audiences with its varied shows and programmes. Stories of various different genres and its new and different style of presentation has won the hearts of the Marathi audiences. The forthcoming October will see an exciting show called 'Tu Ashi Javali Raha' for the devoted fans of Zee Yuva. It stars Titiksha Tawde and Siddharth Bodke. As the title suggests it is not a fairy tale love story but a real love story of madness and passion.
Promo –
Tu Ashi Javali Raha | New Show | Zee Yuva

त्याच्या वेड्या प्रेमाला ती जिंकू शकेल का?घेऊन येत आहोत एक नवी मालिका, 'तू अशी जवळी रहा', १ ऑक्टोबरपासून सोम. ते शनि. संध्या. ७:३० वा. फक्त #ZeeYuva वर. #TuAshiJavaliRaha

Publiée par Zee Yuva sur Mardi 4 septembre 2018
In the show Siddharth Bodke plays Rajveer Mohite Patil who is a smart and shrewd boy who hates defeat and Titiksha plays Manva who is an independent and self respecting girl. This love story is a bit different from the usual run of the mill love stories. These two opposite minded persons can't come together for love and they won't sacrifice their ideals and principles for love and the challenges they face makes up the gist of the story. The crazy mad love for Manva by Rajveer and how Manva wins the love of Rajveer marks a complete twist to the story. The promos have been recently aired to a good response and the characters of Siddharth Bodke and Titiksha have raised much curiosity among the audiences.
Speaking about her character Titiksha says, " This role of mine called Manva is completely different from what I have played earlier. Challenging roles always drives an actor enthusiastically. This different love story might have happened in our neighborhood but not much attention may have been given to it but this show highlights such love. I identify with my character completely . The teleplay of this show is very interesting and will spellbound the audiences of the TV Show".
---
Promo –
---
Cloud tags – 
tu ashi javali raha zee yuva serial, tu ashi javali raha zee yuva serial timing starcast promo wiki, 
---