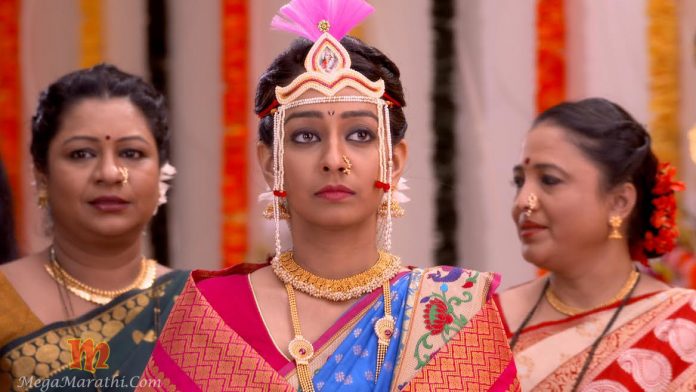 Will Bayo Aaji Spoil Radha's Wedding?
Star Pravah's marathi serial 'Goth' is poised at an interesting stage. Expect solid twists and turns this week and the week ahead. Nobody digests insults so easily. The person who gets humiliated always vows revenge. History is replete with such examples.
Remember Duryodhana's humiliation by 'Draupadi' that led to the epic Mahabharata?
Well, Bayo aaji too has vowed to extract revenge of her humiliations visited upon her by Radha.
Bayo aaji, along with Abhay Mhapsekar's evil cunning, have plotted a dangerous plan to spoil Radha's marriage to Abhishek. The devilish duo have planned to change Abhishek's mind and thus extract their sweet revenge.
Goth is now standing at an interesting crossroad. The serial is creating awareness among the women folk and the story centers around the 'Women's decisions, in women's hands' theme. As a result, the serial has already made inroads into the hearts of viewers of Star Pravah. And now, the serial is standing on the cusp of curious turns.
Radha is happy and grooming herself for her wedding celebrations even as Bayo aaji and Abhay Mhapsekar are waiting with baited breath to pounce upon her, trap her.
But will the duo succeed in their evil design? Will they succeed in spoiling Radha's wedding? Or will Radha return the salvo and defeat Bayo aaji and Abhay Mhapsekar?
Well, we are not yet spilling the beans and would rather leave it up to you to find it out over the course of the coming two weeks as the wedding drama unfolds.
Expect a treat then as talented actors like Neelkanti Patekar, Rajan Bhise, Sameer Paranjpe, Rupal Nand, Sushil Inamdar, Vivek Gore, Ruta Kale, Supriya Vinod, Shalaka Pawar and Latika Gore satiate your curiosity.
---
Radha & Abhishek Marriage HD Photos, Images , Pics –
---