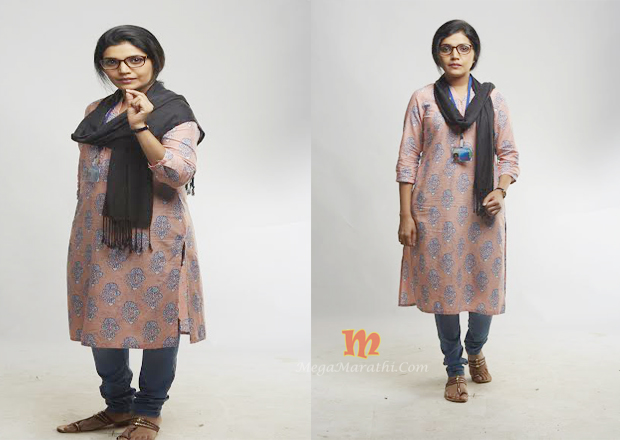 In a safe and secure frame of relationships, living a happy life, an ordinary woman who believes that her own family is the universe, and then there is an unexpected storm in her life; and it her life upside down. And then this common woman tries to break the safe square around her and fights injustice. The new series "Rudram" on Zee Yuva,gives an unexpected experience of this thriller . Through this series, audience will get the experience of a wonderful thriller on small screen. The journey of this series begins with the raising of anxiety with each part of the Rudram. This all takes place very fast and eventhough it ends in certain parts, it is very significant and remarkable. It is rare that a series of writing which is not commercial in any way.. it is put forth in front of audiences in a very lenient way. Although the topic of this series is eloquent, it has been very simple and "Mukta Barve" is the good will of the series. She is a protagonist, who has seen a few times on a small screen but she has left a mark on the audience's heart. She justified the role well and everyone will be in love with her character played in this serial. It can be caught on Zee Yuva every night from Monday to Friday, 7 August, 9: 30 pm , after a long time Mukta, a talented actress of Marathi film and theatre industry will return to small screen. In this serial 'Rudram' with her Vandana Gupte, Satish Rajwade, Mohan Agashe, Sandeep Pathak, Kiran karmarkar, Mitali Jagtap, Suhas Palshikar , Vivek Lagi, Suhas sirsat, Sai Ranade, Aniruddha Joshi, Milind Fatak, Sunil Abhyankar, Anand Alakunte, Kiran Khoj, Ashish Kulkarni and many more… It's going to be the hallmark of these great artists. That's why the serial will be a feast for the audience.
Zee Yuva channel started of a new era in Marathi television and so started an innovative experience towards Maharashtrian audience. Zee Yuva and Zee Talkies's Business Head Bhavesh Janavalekar said that, "Currently the influence of television on the minds of population is very high and it needs to cater to the interests of the young generation, to give the audience the quality of brand new subjects. Keeping the interest of the society in mind zee Yuva has been giving brilliant new unique serials and it's pretty well known for them.Casting very famous actors and by placing perfect faces for certain characters , Zee Yuva is bringing 'Rudram' a rapid anxious mini series in which the audience will be thrilled .Rudram can be looked upon as a new serial with a combination of great script with the support of strong actors. We know that it will keep the audience hooked and excited about the serial from the first episode to the last episode.
"Rudram", the concept of this serial is of Zee Yuva channel although, it is a production of Nikhil Seth, Vinod Lavhekar, Sandesh Kulkarni's 'potdi entertainment organisation. With the script from a famous writer like Girish Joshi and with Bhimrao Mude's direction along with thriving actors 'Rudram' serial will be a very different experience all together.
---