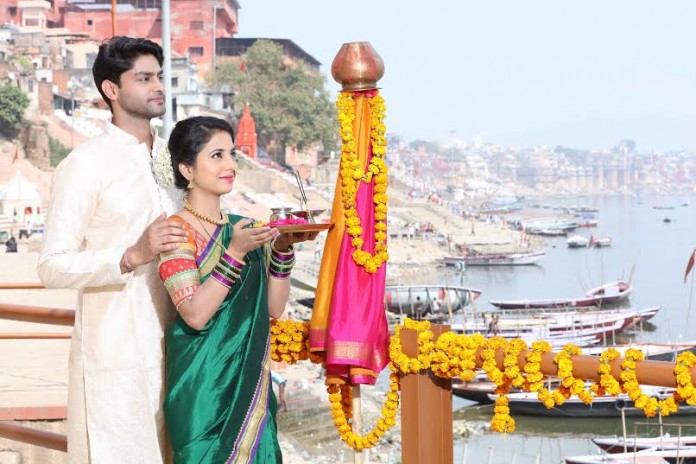 Kahe Diya Pardes – Zee Marathi Serial
Love can't be predictable. True love can be happen with anyone, it can't be bind with language, religion, or region. Like that a different love story will be shown on Zee Marathi as   ' Kahe Diya Pardes' from 28 March. This is a story of two couples who have made true love by skipping a barriers of language and religion. Also it is a story of lovable father and daughter.
Kahe Diya Pardes is a love story of Gauri and Shiv. Gauri is a middle class girl and working in a big company in sales. Her father 'Madhusudhan Savant'  is working in radio while mother is a teacher. Madhusudhan has a proud about marathi language and marathi identity and this can be easily seen from his day today behavior.  Due to the different religious people, local boys future will be impacted is a subject of keen interest for Madhusudan. No any migration is acceptable by Mahdusudan. Gauri has no interest in this matter but she never makes debate on it because she never want to hurt her father.  
Even though this environment is in family, Gauri fall in love with non marathi Shiv.  Shiv is from Banaras but he came to Mumbai for job. He is also loving a lot Gauri. Shiv trying to learn our language and culture.  Madhusudan hates a Shiv. But because of  love on daughter he has to accept Shiv and allow Gauri to marry with Shiv. But when Gauri has send Banaras,  Madhusudans's mind says "Kahe Diya Pardes???".
In this serial Gauri is Sayali Sanjeev, and Rushi Suxena as a Shiv. Veteran actor Mohan Joshi is as father of Gauri , Madhusudan Savant. While famous actress Shubhangi Gokhale as mother of Gauri. The family of Shiv is from Banaras So most of the part is shooted in Banaras.
Mahesh Tagade and Jitendra Gupta 'Tell A Tale' Media Produced 'Kahe Diya Pardes' directed by 'Ajay Mayekar'.  This is from 28 March 2016 at 09:00pm on Zee Marathi. So everyone eagerly waiting for this.
Read This Article In Marathi —-> Click Here
---
Photo Gallery :
---