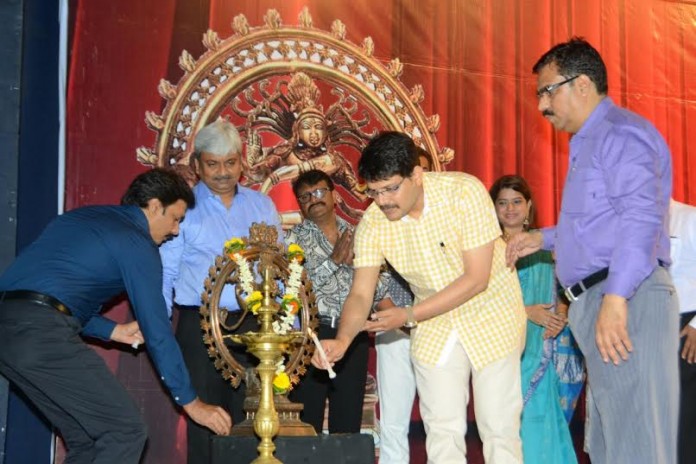 16th Sanskruti Kala Darpan Gaurav Rajani Ceremony Inauguration
Maharashtra's favorite Sanskruti Kala Darpan Gaurav Rajani's 16th Ceremony has inaugurated on 6th April by Deepprajvalan. This ceremony held at Ravindra Natyamandit , Prabhadevi. It is inaugurated in gracious presence of various veteran actors like Vishvas Joshi, Vijay Pathakar, Abhijeet Panase, Smita Jaykar, Rekha Sahay, Milind Gavali, Amruta Rao, Samruddhi Pore, Ashutosh Ghorpade. In presence of great crowd ceremony started with the movie 'Natsamrat'. All the audiences has get chance to enjoy it free of cost.
For this year total 64 movies are selected. Apart from that Natsamrat, Khwada, Halal, Mitwa, Deeol Band, Sandook, Ranga Patanga, Koti, Double Seat, Dagadi Chaawl and Katyar Kaljat Ghusali has got chance in first 11 movies. Shravani Devdhar, Deepak Deoolkar, Samruddhi Pore, Abhijeet Panase, Amit Bhandari and Amruta Rao has worked as jury for this selection.
All the audiences has got a chance to see these movies and voting with various veteran actors. Winners will get a one and a half million rupees in cash. All the collection will be donated to the NAM Foundation.
---
Top 11 Movies Lists and Timings :
| | | |
| --- | --- | --- |
| दिनांक  |  चित्रपटाचे नाव  | वेळ  |
| 06 April 2016 | Natsamrat | 10 AM |
| 06 April 2016 | Khwada | 01:00pm |
| 06 April 2016 | Halal | 03.15pm |
| 06 April 2016 | Mitwa | 5.30pm |
| ६ एप्रिल २०१६ | Deeol Band | 08:00pm |
| | | |
| 07 April 2016 | Sandook | 10:00 am |
| 07 April 2016 | Ranga Patanaga | 12:15pm |
| 07 April 2016 | Koti | 02:30pm |
| 07 April 2016 | Double Seat | 05:00pm |
| 07 April 2016 | Dagadi Chaawl | 07:00pm |
| 07 April 2016 | Katyar Kaljat Ghusali | 09:30pm |
---
हि बातमी मराठी मध्ये वाचण्यासाठी येथे क्लिक करा