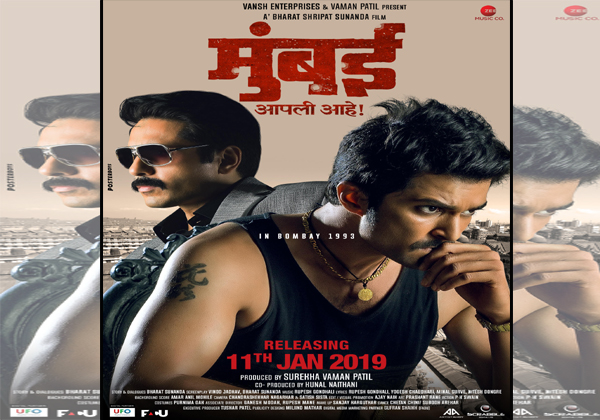 Every person wants to be unique and do something original and he tries to   get an identity for himself with something new and big and he strives to do that in his life. They rigidly try hard to achieve this in their lifetime with whichever way they can  even if the path taken is wrong. On this premise is the Bharat Sunanda crime drama written by him also and directed too by him and this film produced under the banner of  Vansh Enterprises titled 'Mumbai Aapli Aahe' which releases on 11 January.
The film highlights the life of a powerful underworld  drama and never seen before thrills and action in a Marathi film can be seen in this film. The period from 1993 when Mumbai was under the severe grip of the underworld and the ambiance of the regular chawls in Mumbai and a love story flowering in this backdrop. The popular star of Hindi films and Marathi films Rakesh Bapat will be seen as the underworld don in this film. Rakesh Bapat who is known for his romantic chocolate boy image will get an image makeover with this film. 
Opposite him is debutant Minal Patil. Also making a debut is the actor known for his Hindi and  also TV shows, Iqbal Khan who has a a pivotal role in the film. Also in the cast are veterans Kishori Shahane-Vij and Arun Nalawde and Nayan Jadhav. Ramesh Gondhali is the music composer for the film. The film is produced by Surekha Vaman Patil and  co-produced by Kunal Naithani. So this film with super performances and strong dialogues and thrilling action is a must-see for everyone! 
---