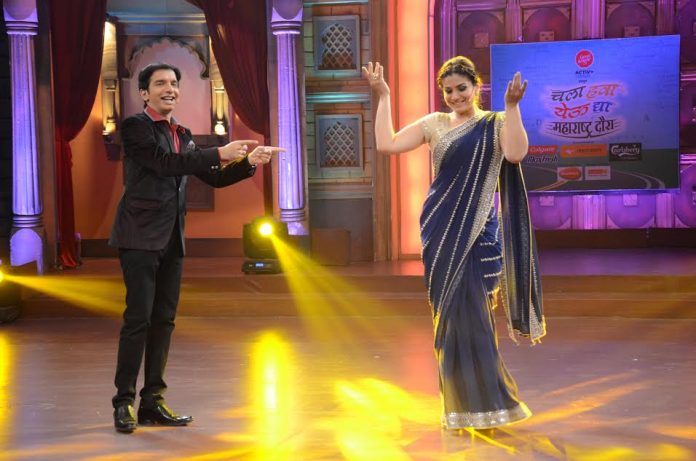 The mast girl of Bollywood Raveena Tondon who won hearts with her graceful dancing and acting is now making a come back in Hindi cinema. 'Matru' this new movie will be released soon. To publicize the movie actress Raveena Tondon made a presence on the sets of Chala Hava Yeu Dya. On coming Tuesday 18th April at 9:30pm this episode will be shown. Whereas on Monday the artists from Zee Marathi's serial 'Chuk Bhul Dyavi Ghyavi' will be coming to the sets.
Till now many famous Bollywood stars have made a presence on the stage of Chala Hava Yeu Dya and now Raveena too is one of them. 'Matru' is based on a very sensitive topic and to promote the movie actress Raveena Tandon came to Thukratwadi and a Marathi based actress Divya Jagdale who has worked with her accompanied. This time the artists from Thukratwadi had lots of fun with her and she appreciated it with her joyful laughter and accompanied Kushal Badrige and Bhau Kadam in some grooves. Her eyes watered when the postman Sagar karande read out his letter.
All in all along with fun and games this episode was about putting light on a very sensitive topic and it'll be coming on Zee Marathi on coming Tuesday at 9:30pm.
---
Monday's Episode With  'Chuk Bhul Dyavi Ghyavi' team
On Chala Hava Yeu Dya's Monday's episode the team from Zee Marathi's famous serial 'Chuk Bhul Dyavi Ghyavi' will be present. In which Dilip Prabhavalkar, Naina Apte, Sukanya Kulkarni Mone, Priyadarshan Jadhav, Sayli Fatak, serial's writer Madhugandha Kulkarni, producer Manva Naik and director Swapnil Jaykar were also included.
With there amazing artists watch the fun in thukratwadi on coming Monday at 9:30pm only on Zee Marathi.
---