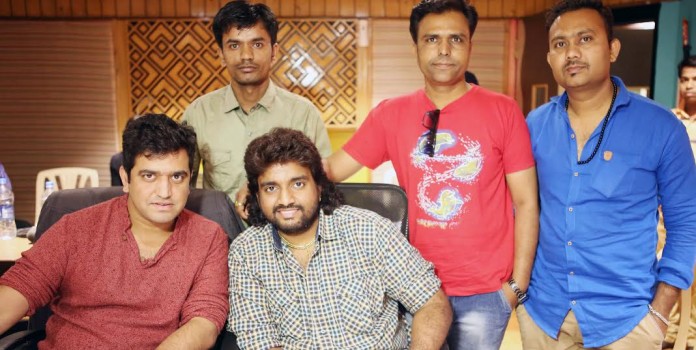 Jidda Marathi Movie Song Recording
Marathi movies are coming with taking a spirit of youth in to consideration. Sushila Productions presents upcoming movie 'Jidda' is a good example of that. Santosh Katkade Produced and Anand Bacchav (Sai Ananad) directed movie Jidda, song recording have been done recently in Ajivasan Studio.
Lyricists Santosh Katkade's songs from Jidda movie are in the melodious voice of Swapnil Bandodkar, Adarsh Shinde, Sayali Pankaj, Rohit Raut and Sancheti Sakat. Music given by famous duet Ajay-Atul. Movie is having item song 'Majhya Swapnamadhi', love song 'Prembhasha' and 'Whatsapp Pori Tujha Chehara', 'Jagnyachi Aas Ata' as breakup song.
The movie is based on story of a obstinate college student. Story and screenplay by Santosh Katkade, dialogue by Abhijeet Kulkarni. Cinematography is done by  Gopal Kotiyaal. Art direction is done by Madhu Kambale and Pratik Chandwadkar. Co-directed by Prashant Welkar and Rashmi Jadhav. Santosh Kadam is as an executive producer. The movie with starcasts Deepak Shirke, Arun Geete, Sunil Godbole, Vikrant Thakare, Pratik Chandwadkar, Dnyaneshwar Wagh and Pooja Raj.
हि बातमी मराठी मध्ये वाचण्यासाठी येथे क्लिक करा —> Click Here
---
Cloud Tags :
jid marathi movie songs
jida marathi film mp3
jid marathi movie video,trailer
jidda marathi movie trailer
adarsh shinde songs
---