Now a days lots of fresh and untouched issues has been taken up by Marathi directors and producers in Marathi film industry, keeping the audience attracted and attached towards the industry. The presentation of this issues is well handed by them till date. Keeping same freshness in its topic, Jaga Wegali Antyatra is all set to hit theaters on 23rd March.
Under the banner of Ultimate Film Makers Pvt. Ltd, the film is produced by Dr. Nitin Shyam Toshniwal and directed by Amol Ashok Lahande, consist of huge and well-known starcast including Bhau Kadam, Madhav Abhyankar, Rajan Bhise, Suhas Paranjpe, Supreet Kadam, Omkar Purohit, Vinambra Bhabal, Dr. Vishal Gore and Shivani Bhosale.
Job itself is a huge question mark in front of the youngsters. The education you take, bigger is the problem of getting a job that fits for you. The film showcase the problems faced by this generation while getting a job and the role model that they reflect in the society with their actions, is presented in a hilarious comedy.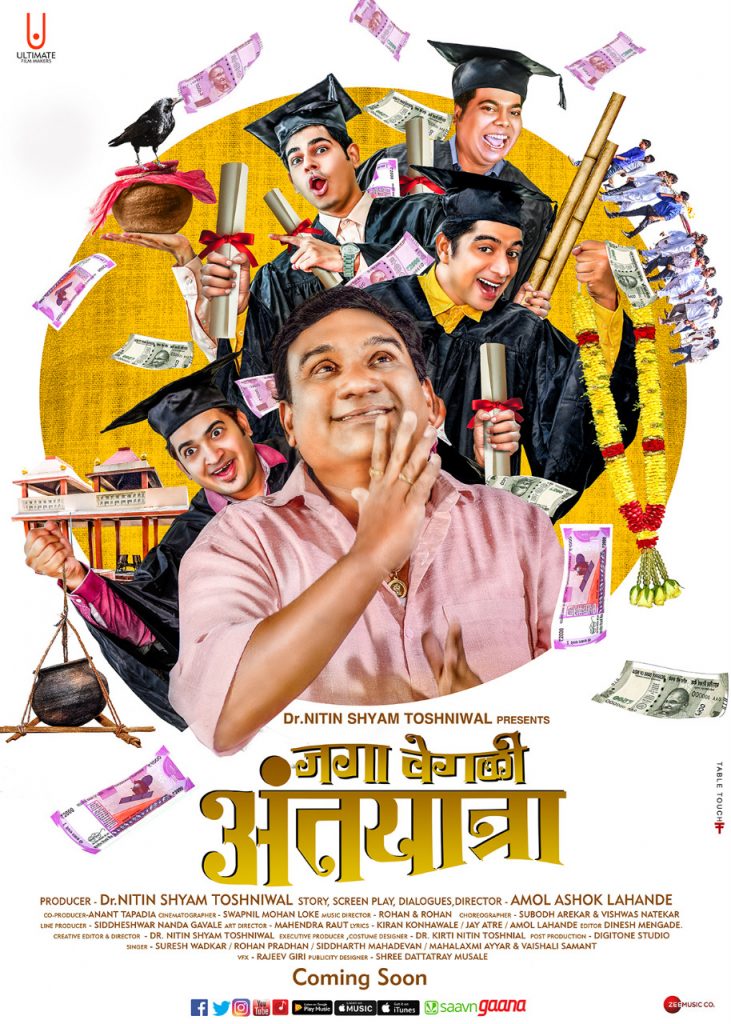 The producers has made an attempt to present a serious and day-to-day problem in a comedy way, so that each one can give a serious thought on this issue but with a laughter on the face, said the director Amol Lahande.
With a fresh and new topic, unique way of presentation, resembling cast to it, music by Rohan-Rohan pair, melodious songs sung bywell-establishedsingerssuch asSuresh Wadkar, Rohan Pradhan, SiddharthMahadevan, MahalaxmiAyyar and VaishaliSamant and many such things have come together for this film, which will surely love and embraced by the audience, no doubt about it.
The film will hit the theaters on 23rd March all over the Maharashtra.
---