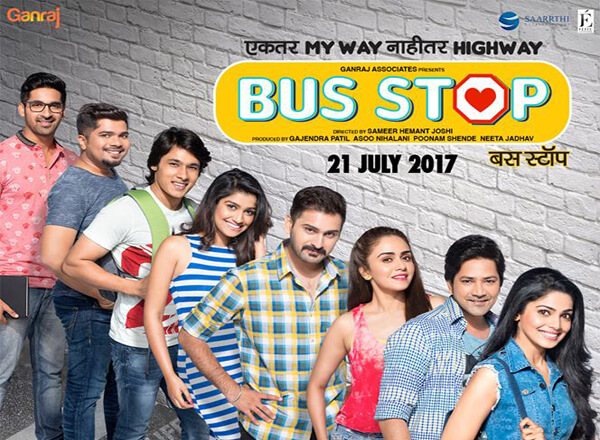 Bus Stop (2017) | (बस स्टोप) Marathi Movie
Starcast – Amruta Khanvilkar, Aniket Vishwasrao, Hemant Dhome, Siddharth Chandekar, Pooja Sawant, Rasika Sunil, Akshay Waghmare, Madhura Deshpande, Suyog Gore, Avinash Narkar, Sanjay Mone, Sharad Ponkshe, Uday Tikekar, Vidhyadhar Joshi.
Studio – Ganaraj Associates and Sarthi Group
Director – Sameer Hemant Joshi
Producer – Poonam Shende, Gajendra Patil, Aasu Nihlaani.
Executive Producer – Sanjay Dawra
Editor – Apurwa Motiwale Sahai, Ashish Mhatre
Cinematography – Abhijeet Abde.
Art Direction – Poorva Pandit Bhujbal
Music – Jasraj, Hrushikesh, and Sourabh.
Lyrics – Vaibhav Joshi, Kshitij Patwardhan, Yogesh Damle
Background Score – Aditya Bedekar
Costumes – Sonniya Sahasrabuddhe
Make Up – Mahesh Barate
Genre – Drama.
Release Date – 21 July 2017.
---
About –
Currently shooting of movie completed and they have started post production works. Stay tuned for more updates. The movie is directed by Sameer Joshi and produced by Shreyas Jadhav who have already Produced Marathi Movie Online Binline.
---
Bus Stop Marathi Movie Posters and Still Photos –
---