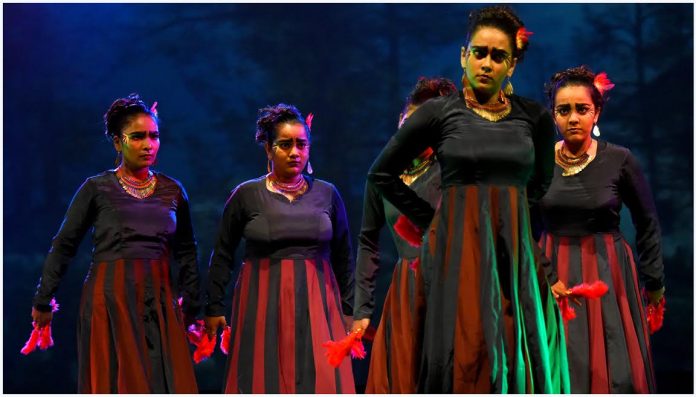 'Samarpanam' by Rujuta Soman Cultural Academy
For the past 15 years, Rujuta Soman Cultural Academy (R.S.C.A) has been promoting and preaching the Kathak dance form. Founder-Director Rujuta Soman is one the senior disciples of late Guru Pt. Dr. Rohini Bhate. Pt. Dr. Bhate was the pioneer of promoting and preaching Kathak in Pune and her contribution to this dance form is revered worldwide. With the intention of introducing her work and legacy to the new generation of budding Kathak artists, R.S.C.A has organised a two-day event 'Samarpanam' on 26th and 27th of August 2016.
Pt. Dr. Bhate had introduced a tradition of Gurudakshina, wherein students would present their own choreographed creations in front of their Guru. To continue with this grand tradition, 26th August 2016 has been marked with the presentation of a Kathak ballet called 'Rajhansa – A Self Beyond Self'.
In Indian mythophilosophical context, the Swan (Hansa) has hitherto been referred to as a synonym of unbiased wisdom. It is widely believed and acknowledged that the Swan has an uncanny ability to segregate the true from the false. Its graceful yet cautious stroll is a walk towards enlightenment. Our saints are often referred to as the HANSA (The enlightened) or the PARAMHANSA (The supremely enlightened). Their sainthood and their indifference towards the worldly ills and pleasures are reflected in the graceful Swan which, while manoeuvring over the water surface does not allow the water to dampen his feathers!
'Rajhansa – A Self Beyond Self', is a contemporary Kathak Choreography which highlights the journey of a dancer who overcomes her insecurities and tries to reach towards a transcendental self.
The same story has been portrayed through the language of Kathak, with some experimental bodily gestures that convey the meaning. This unique Kathak ballet is enriched with the usage of modern techniques like graphics and light design.
This concept has been conceived and choreographed by Smt. Rujuta Soman. She would be performing this ballet with her 12 senior students. The scripting and the art direction for this ballet has been done by Mr. Kiran Yadnyopavit. Mr. Narendra Bhide has been roped in as the music composer. Mr. Harshawardhan Pathak has done the entire light design. Priyal Mote and Rohit Kokil have created the Graphics. Costume designs have been materialised by Smt. Sheetal Oak and the Make-Up for this ballet has been done by Mr. Ashish Deshpande.
A symposium named 'Shaabd', that will feature eminent artists, thinkers and analysts from the art fraternity, has been organised on 27th of August 2016. This symposium will be held at the Jyotsna Bhole Auditorium in two sessions between 9 am – 5 pm.
The first session will see the inauguration of 'Attendance' authored by senior analyst and thinker Mr. Ashish Mohan Khokar at the hands of Senior Guru Smt. Prabha Marathe and Smt. Sharadini Gole. Mr. Ashish Khokar will then speak about 'Choreography – Then & Now' from 9.30 am – 11 am. From 11 am – 12. 30 pm, Senior Kathak Exponent Smt. Nilima Aadhye will present a speech on 'Yathakaal Yathavakaash – Time & Space', thus concluding the first session.
At the beginning of the second session, Mr. Atul Pethe, an eminent playwright and director, will present his thoughts on 'Moments & Movements' from 2 pm – 3.30 pm and to conclude the symposium, Mr. Sadanand Menon, a respected analyst and thinker, will speak his mind on 'Remembering Chandralekha'.
26 Aug- Rajhansa ballet. Time- 7:30 pm Venue- Annabhau Sathe Auditorium,satara road.
27 Aug- Shaabda (symposium)
Time- 9 am – 5 pm
Venue- Jyotsna Bhole sabhagriha,Hirabagh.
Tickets will be available at the venues on the same day of events.
Please contact – +91 9763113444 for more details.
हि न्यूज मराठी मध्ये वाचण्यासाठी येथे क्लीक करा ….
---